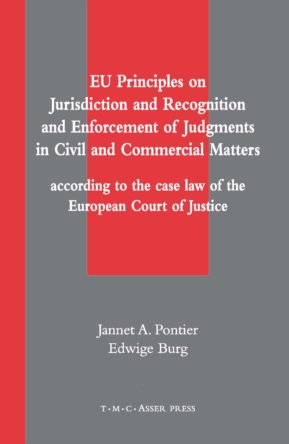 EU Principles on Jurisdiction and Recognition and Enforcement of Judgments in Civil and Commercial Matters according to the case law of the European Court of Justice
2004
Order
For international lawyers, the European rules on jurisdiction and recognition and enforcement of judgments in civil and commercial matters are of great practical importance. Since March 2002, these rules have been laid down in an EU Regulation (44/2001) which essentially replaced the 1968 Brussels Convention. The preliminary considerations to the Regulation imply that the decisions in which the Court of Justice of the EC has interpreted the Brussels Convention remain relevant for the interpretation of the Regulation. Hence, in order to have a thorough understanding of the Regulation, an in-depth knowledge of the EC Court's case law regarding the Brussels Convention is imperative.
The present study is based on an analysis of more than one hundred decisions that the Court has delivered under the Brussels Convention. It appears that the significance of the Court's case law lies not only in the final outcome of these decisions, but also in the principles that the Court consistently refers to in arriving at its decisions.
The authors piece together the system of principles that has become apparent in the Court's reasoning. An understanding of this system not only sheds light on how and why the Court has reached its past decisions, but it also enables lawyers to understand the confines within which the Court's argumentation is likely to take place in future cases under the Regulation.
A publication which focuses on the principles used by the Court to justify its decisions in this particular area of law, has been lacking. This book aims to fill that gap. Its value extends beyond the academic realm and into the field of legal practice.
Available for download

Pontier Burg Table of Contents