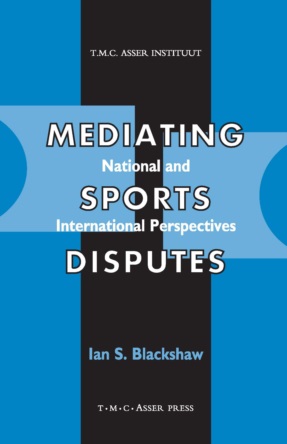 Mediating Sports Disputes - National and International Perspectives

Series: ASSER International Sports Law Series
2002
Order
This is the first book to explore extra-judicial settlement of sports disputes through mediation. It reflects the growing interest in and importance of alternative dispute resolution methods for settling sports-related disputes, at national and international levels.
As sport has developed in recent years into a global business, the number of disputes has risen exponentially and the need for alternative forms of dispute resolution has grown significantly too. Mediation can be used successfully in a wide range of sports disputes, including an increasing number of commercial and financial ones. But its effectiveness depends on the willingness of the parties in dispute to compromise and reach creative and amicable solutions in their own interests and also those of sport.
This book adopts an essentially practical approach, but also provides an explanation of the theoretical background to the subject and contains a wide-ranging set of relevant and useful texts and documentation.
A useful tool for all those concerned with the effective and amicable resolution of sports disputes, including sports governing bodies and administrators, marketeers, event managers, sponsors, merchandisers, hospitality providers, sports advertising agencies, broadcasters, and legal advisers.
With a Foreword by Judge Keba Mbaye, President of the International Council for the Arbitration of Sport and the Court of Arbitration for Sport.
This book appears in the ASSER International Sports Law Series.
Available for download



Blackshaw Table of Contents