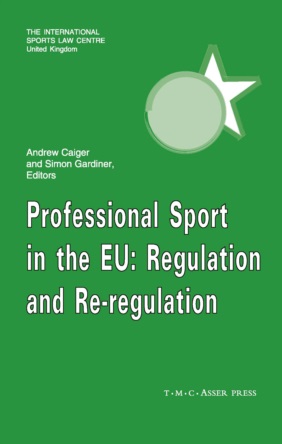 Professional Sport in the European Union - Regulation and Re-Regulation

Series: ASSER International Sports Law Series
2000
Order
This book comes at a critical time for the future development of sports law. Sport is becoming increasingly commercialised, but its regulation is fragmentary and it is difficult to delineate issues of pure sport and issues of business.
In this volume, eminent sports law scholars examine the relationship between sport, business and policy. They analyse how law regulates sport and sports business and demonstrate the need to redefine the frontier between 'Sporting' rules and regulations and legal regulation.
It is suggested that sporting bodies and associations have a significant role to play in shaping the contours of this frontier. It is also suggested that there is sufficient clarity in EU polity, which allows sports associations to become proactive in their own re-regulation. This volume engages the debate concerning how sport can be best re-regulated in the 21st century and represents a significant contribution to the recognition of a Lex Sportiva.
Specific to this book:
Both editors are connected to the International Sports Law Centre of Anglia Polytechnic University, United Kingdom
Includes summaries of the contents of the book and the final conclusions
This book appears in the ASSER International Sports Law Series.
Available for download

Caiger Gardiner Table of Contents