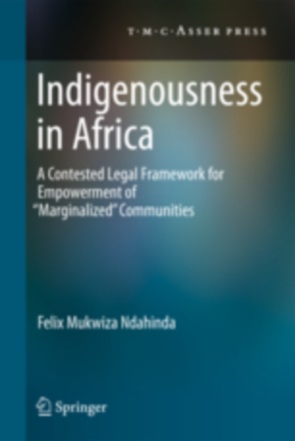 Indigenousness in Africa - A Contested Legal Framework for Empowerment of 'Marginalized' Communities
2011
Order
Details
Published:

2011

Pages:

393 pp.

Publisher:

T.M.C. ASSER PRESS

Distributor:

Springer
Following the internationalization of the indigenous rights movement, a growing number of African hunter-gatherers, pastoralists and other communities have channelled their claims for special legal protection through the global indigenous rights movement. Their claims as the indigenous peoples of Africa are backed by many (international) actors such as indigenous rights activists, donors and some academia. However, indigenous identification is contested by many African governments, some members of non-claimant communities and a number of anthropologists who have extensively interacted with claimant indigenous groups.
This book explores the sources as well as the legal and political implications of indigenous identification in Africa. By highlighting the quasi-inexistence of systematic and discursive – rather than activist – studies on the subject-matter, the analysis questions the appropriateness of this framework in efforts aimed at empowering claimant communities in inherently multiethnic African countries. The book navigates between various disciplines in trying to better capture the phenomenon of indigenous rights advocacy in Africa.
The book is valuable reading for academics in law and all (other) social sciences such as anthropology, sociology, history, political science, as well as for economists. It is also a useful tool for policy-makers, legal practitioners, indigenous rights activists, and a wide range of NGOs.
Dr. Felix Mukwiza Ndahinda is Associate Professor at the International Victimology Institute Tilburg (INTERVICT), Tilburg University, The Netherlands.
With a Foreword by Prof. Asbjørn Eide, a former Chairman of the UN Working Group on Indigenous Populations, Chairman of the UN Working Group on Minorities, President of the Advisory Committee on National Minorities of the Council of Europe.
Available for download

Ndahinda Foreword by A. Eide