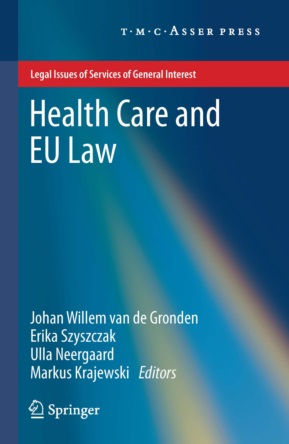 Health Care and EU Law

Series: Legal Issues of Services of General Interest
2011
Order
Details
Published:

2011

Pages:

450 pp.

Publisher:

T.M.C. ASSER PRESS

Distributor:

Springer
The EU has only limited competence to regulate national health-care systems but recent developments have shown that health care is not immune from the effects of EU law. As Member States have increasingly experimented with new forms of funding and the delivery of health-care and social welfare services, health-care issues have not escaped scrutiny from the EU internal market and from competition and procurement rules. The market-oriented EU rules now affect these national experiments as patients and health-care providers turn to EU law to assert certain rights. The recent debates on the (draft) Directive on Patients' Rights further underline the importance, but also the difficulty (and controversy), of allowing EU law to regulate health care.
The topicality of the range of issues related to health care and EU law was addressed, in October 2009, at a conference held in Nijmegen, The Netherlands. The present volume contains inter alia the proceedings of this conference and invited essays. This volume follows the publication of The Changing Legal Framework for Services of General Interest in Europe. Between Competition and Solidarity (Krajewski M et al (eds) (2009) T.M.C. Asser Press, The Hague) and launches a new series: Legal Issues of Services of General Interest. The aim of the series is to sketch the framework for services of general interest in the EU and to explore the issues raised by developments related to these services.
The book is compulsory reading for everyone who is engaged in issues relating to health care and EU law.
Johan van de Gronden is Professor of European Law at the Law Faculty of the Radboud University Nijmegen, the Netherlands. Erika Szyszczak is a Jean Monnet Professor of European Law ad personam and Professor of European Competition and Labour Law at the University of Leicester, UK. Ulla Neergaard is Professor of EU law at the Law Faculty of the University of Copenhagen, Denmark. Markus Krajewski is Professor of International Public Law, Faculty of Law, University of Erlangen-Nuremberg, Germany.
Available for download

Health Care and EU Law Preface and Acknowledgments

Health Care and EU Law ToC