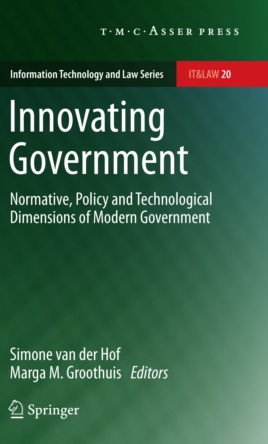 Innovating Government - Normative, Policy and Technological Dimensions of Modern Government

Series: Information Technology and Law Series
March 2011
Order
Details
Published:

March 2011

Pages:

466 pp.

Publisher:

T.M.C. ASSER PRESS

Distributor:

Springer
Governments radically change under the influence of technology. As a result, our lives in interaction with public sector bodies are easier. But the creation of an electronic government also makes us more vulnerable and dependent. Dependent not just on technology itself, but also on the organizations within government that apply technology, collect and use citizen-related information and often demand the citizens submit themselves to technological applications.
This book analyzes the legal, ethical, policy and technological dimensions of innovating government. Authors from diverse backgrounds confront the reader with a variety of disciplinary perspectives on persistent themes, like privacy, biometrics, surveillance, e-democracy, electronic government, and identity management.
Clearly, the use of technology by governments demands that choices are made. In the search for guiding principles therein, an in-depth understanding of the developments related to electronic government is necessary. This book contributes to this understanding. This book is valuable to academics and practitioners in a wide variety of fields such as public administration and ICT, sociology, political science, communications science, ethics and philosophy. It is also a useful tool for policymakers at the national and international level.
Simone van der Hof is Associate Professor at TILT (Tilburg Institute for Law, Technology, and Society), Tilburg University, The Netherlands. Marga Groothuis is Assistant Professor at the Faculty of Law of Leiden University in the Netherlands.
Specific to this book:
Offers the reader a clear structure
Enables the reader to see across disciplinary borders
Offers an in-depth insight into new modes of government in various policy domains
This is Volume 20 in the Information Technology and Law (IT&Law) Series
Available for download

Front matter incl. table of contents