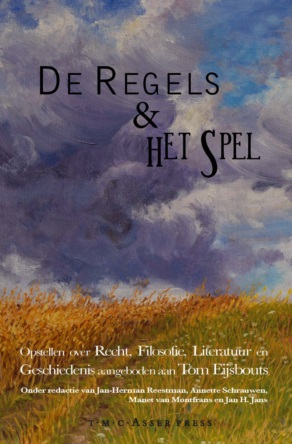 De Regels & Het Spel - Opstellen over Recht, Filosofie, Literatuur en Geschiedenis aangeboden aan Tom Eijsbouts
2011
Order
Details
ISBN:

978-90-6704-338-0

Price:

€ 40.00
De opstellen in dit boek zijn aangeboden aan Tom Eijsbouts op 25 november 2011. Op die dag nam hij afscheid van de Universiteit van Amsterdam, waar hij hoogleraar in het Europese constitutionele recht en zijn geschiedenis was, en aanvaardde hij officieel het hoogleraarschap Europees recht aan de Universiteit Leiden.

De titel en het thema van het boek, De regels en het spel, werden ingegeven door een passage uit Eijsbouts' in 2006 verschenen Een kleine filosofie van de bal:

De ideale spelvorm is (...) af, voltooid, zoals de afmetingen van een tennisbaan. Ruimte, plaats en strijdmiddel zelf zijn qua vorm niet meer inzet van spel. Ze zijn tegen verandering geborgd, zodat alle energie wordt geleid naar het actuele treffen. Dit onderscheidt een puur spel van wat je kunt noemen reële levensvormen met speelse trekken, als het recht of de politiek. In recht en politiek zijn steeds de regels zelf ook inzet van de strijd en kunnen zij veranderen als resultaat ervan. Het eenvoudigst is dat in het recht te zien. Het is de aard van dit bedrijf dat juist die geschillen die de regels het hevigst beproeven, het scherpst worden uitgevochten. Behalve een uitspraak tussen partijen zal het vonnis in zulke gevallen ook een precisering of zelfs een omslag zijn in de betekenis van de regel.

'De regels en het spel': het is een thema dat bij uitstek aan juristen goed besteed is. Zij leverden het merendeel van de tweeënveertig bijdragen, waarvan een groot aantal is toegespitst op het constitutionele en Europese recht – en de combinatie daarvan. Maar ook voor auteurs uit andere vakgebieden – filosofie, literatuur en geschiedenis – bleek dit onderwerp een rijke bron van inspiratie. Aldus is dit boek een hommage aan een veelzijdig en avontuurlijk denker die zich weinig gelegen laat liggen aan disciplinaire grenzen en met groot plezier meerdere ballen tegelijk in de lucht houdt.