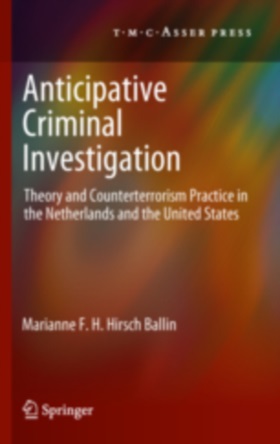 Anticipative Criminal Investigation - Theory and Counterterrorism Practice in the Netherlands and the United States
2012
Order
Details
Published:

2012

Pages:

683 pp.

Publisher:

T.M.C. ASSER PRESS

Distributor:

Springer
This book deals with the adoption of counterterrorism measures in the Netherlands and the United States which facilitate criminal investigations with a preventive focus (anticipative criminal investigations). These anticipative criminal investigations are assessed from the perspective of rule of law principles. Anticipative criminal investigations have emerged in the legal systems of the Netherlands and the United States as a consequence of counterterrorism approaches that combine the objective of the prevention of terrorism with the objective of eventually prosecuting and punishing terrorists.
Because of the attribution of a preventive function to criminal investigations, the role of the criminal justice system in providing security has been repositioned. With respect to this new preventive function of criminal justice, the author identifies the rule of law principles that limit the role of criminal investigation in preventing terrorism. She identifies the possibilities and limits of criminal investigation in general and discusses the cooperation and the division of responsibilities between law enforcement and intelligence. These issues are addressed in a manner which transcends differences between national legal systems.
This book is of great interest for academics and practitioners engaged in criminal investigations, counterterrorism and terrorism prevention and the rule of law in general.
Dr. Marianne F.H. Hirsch Ballin is presently working as an attorney at Pels Rijcken & Droogleever Fortuijn, The Hague, the Netherlands. The research for the present book was conducted at the Willem Pompe Institute for Criminal Law and Criminology, Utrecht University, the Netherlands.