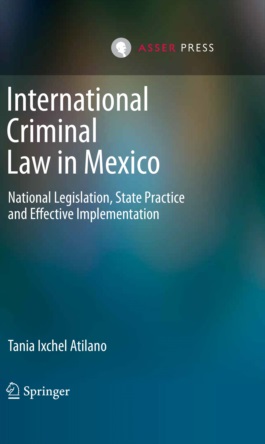 International Criminal Law in Mexico - National Legislation, State Practice and Effective Implementation
March 2021
Order
Details
Published:

March 2021

Pages:

xxi + 324 pp. + 33 ill. (32 fc. + 1 b&w)

Publisher:

T.M.C. ASSER PRESS

Distributor:

Springer
This book puts forward proposals for solutions to the current gaps between the Mexican legal order and the norms and principles of international criminal law. Adequate legislative measures are suggested for compliance with international obligations.
The author approaches the book's subject matter by tracing all norms related to the prosecution of core crimes and contextualizing each of the findings with a brief historical and political account. Additionally, state practice is analyzed, identifying patterns and inconsistencies. This approach is new in offering a wide perspective on international criminal law in Mexico. Relevant legal documents are analyzed and annexed in the book, providing the reader with a useful guide to the topics analyzed.
Issues including the following are examined: the incorporation of core crimes in the Mexican legal order, military jurisdiction, the war crimes definition under Mexican law, unaddressed atrocities, state practice and future challenges to combat impunity.
The book will be of relevance to legal scholars, students, practitioners of law and human rights advocates. It also offers interesting insights to political scientists, historians and journalists.
Tania Ixchel Atilano has a Dr. Iur. from the Humboldt Universität Berlin, an LLM in German Law from the Ludwig Maximilian Universität, Munich, and attained her law degree at the ITAM in Mexico City.
Specific to this book:
First monograph on international criminal law in Mexico
Proposes a legal framework for the prosecution of core crimes according to Mexico's historical and political context
Identifies patterns in Mexican legal practice
Provides a thorough documentation on constitutional and legal amendments related to international criminal law
Includes a number of tables setting out the information in a schematized fashion