International Sports Law Journal
THE INTERNATIONAL SPORTS LAW JOURNAL (ISLJ)
ISSN: 1567-7559 (Print) 2213-5154 (Online)
Frequency: 2 double issues per year 

Editor-in-Chief: Jack Anderson, Queen's University, United Kingdom
Managing Editor: Oskar van Maren, Asser International Sports Law Centre, The Netherlands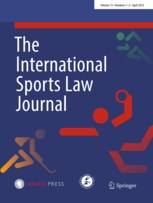 The International Sports Law Journal (ISLJ) is a peer-reviewed journal in the emerging specialty area of international sports law.  The ISLJ welcomes manuscripts in English language, and maintains an impressive Editorial Board of international experts. 
The main purpose of the ISLJ is to provide vital legal analysis, insightful commentary, and important information to those interested in or impacted by sports and the law — whether academics, practitioners, sports officials, sports enthusiasts, or others — about legally relevant developments in the world of sport from national and international perspectives. 
What makes the ISLJ unique is that it is the only truly "international" sports law journal consistently offering broad content coverage by a diverse group of impressive international authors.  The ISLJ is an important resource that experts, practitioners and academics rely on for providing interesting, necessary and valuable information regarding sports law related issues.  With special topic coverage in each edition, the ISLJ is a necessary tool for anyone interested in sports and the law.
The International Sports Law Journal is published in cooperation with the ASSER International Sports Law Centre  and is distributed for T.M.C. Asser Press by Springer-Verlag (Heidelberg, Germany).
Please contact for further information: 
Oskar van Maren, Managing editor ISLJ
P.O. Box 30461
2500 GL THE HAGUE
The Netherlands
Tel: + 31-(0)70-3420349
Fax: + 31-(0)70-3420346
E-mail: o.van.maren@asser.nl
For subscriptions please click here.
Read ISLJ online at SpringerLink here.
For the archive editions 2002 - 2012 -please click here.