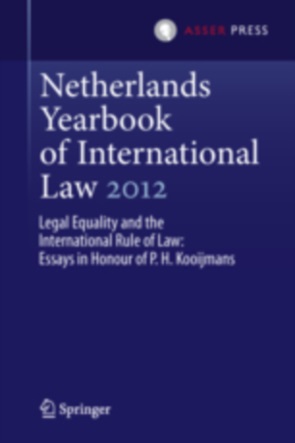 Netherlands Yearbook of International Law 2012, Volume 43 - Legal Equality and the International Rule of Law - Essays in Honour of P.H. Kooijmans

Series: Netherlands Yearbook of International Law
2013
Order
Details
Published:

2013

Pages:

xiv + 266 pp., 1 ill.

Publisher:

T.M.C. ASSER PRESS

Distributor:

Springer
The Netherlands Yearbook of International Law (NYIL) was first published in 1970. It offers a forum for the publication of scholarly articles of a more general nature in the area of public international law including the law of the European Union.
With this Volume on 'Legal Equality and the International Rule of Law', the Netherlands Yearbook of International Law aims to celebrate Pieter Kooijmans' academic, diplomatic, and judicial career by picking up on an important subject in his early writings, the principle of legal equality of states, and addressing it almost fifty years later in the context of the contemporary debate on the international rule of law. It is indeed a conception – an ideal, even – that permeates Kooijmans' work and career. This Volume of the Yearbook studies if and how the principle of legal equality of states is still important in the international legal order of the early 21st century. In particular, it examines the principle's current relevance, e.g., in a pluralistic legal order, its relation to hegemony in international relations and international law, and how it functions in contemporary international organisations. The principle is further explored in the fields of international criminal law, international humanitarian law, and the international law of sovereign immunity. It is moreover treated in relation to both Vattellian and Cosmopolitan traditions of international legal thought.
Click here for general information about the Netherlands Yearbook of International Law (ISSN: 0167-6768, EISSN: 1574-0951).
If you are interested in submitting your article, please contact the Managing Editor: Dr. Carl Emilio Lewis, T.M.C. Asser Instituut, The Hague, The Netherlands, c.lewis@asser.nl
Click here for the Author Guidelines, the topic of the next volume of NYIL and the documentation (online since 2011).
The Netherlands Yearbook of International Law is published in the Netherlands Yearbook of International Law Series
Available for download

Frontmatter, incl. Speech of Judge Rosalyn Higgens and Table of Contents