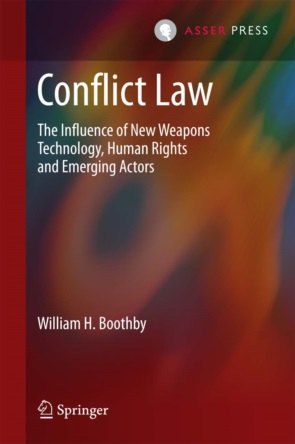 Conflict Law - The Influence of New Weapons Technology, Human Rights and Emerging Actors
March 2014
Order
Details
Published:

March 2014

Pages:

VIII + 443 p.

Publisher:

T.M.C. ASSER PRESS

Distributor:

Springer
In this, the second decade of the 21st century, the law relating to conflict is confronted by a number of challenges this book seeks to identify and to discuss. Topics as diverse as the evolving spectrum of conflict, innovations in weaponry, automated and autonomous attack, the depersonalisation of warfare, detention operations, the influence of modern media and the application of human rights law to the conduct of hostilities are examined to see to what extent existing legal norms are under attack. The book takes each topic in turn, explains relevant provisions of contemporary law and analyses exactly where the legal problem lies. The analysis then develops the theme, examining for example the implications of current rules as to deception operations for certain applications of cyber warfare.
The book, written in an accessible style, demonstrates the continuing relevance of established rules and the importance of compliance with them. It is a valuable tool for further discussion and research involving academics, military lawyers and commanders, governments, ministries of defence and foreign affairs, libraries, diplomats, think tanks, policy units, NGOs, journalists, students and all others with an interest in law of armed conflict issues.
Dr William H. Boothby is the Former Deputy Director of Legal Services, Royal Air Force, United Kingdom.
Available for download

Frontmatter, incl. Table of Contents