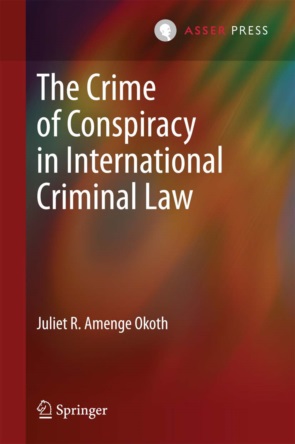 The Crime of Conspiracy in International Criminal Law
2014
Order
Details
Published:

2014

Pages:

ix + 219 pp.

Publisher:

T.M.C. ASSER PRESS

Distributor:

Springer
The concept of Conspiracy was introduced into international criminal law for purposes of prevention and to combat the collective nature of participation in the commission of international crimes. Its function in the prosecution of international crimes is displayed by the author analyzing the decisions on conspiracy by the international criminal tribunals, however finally culminating in the failure to include Conspiracy in the Rome Statute.
While the function of conspiracy as a mode of liability is satisfactorily covered by the modes of participation in the Rome Statute, its function as a purely inchoate crime used to punish incomplete crimes is missing. This book creates a case for inclusion in the Rome Statute the punishment of conspiracies involving international crimes that do not extend beyond the conceptual stage, to reinforce the Statute's purpose of prevention. The conspiracy concept proposed is one that reflects the characteristics acceptable under both common law and civil law systems.
Researchers and practitioners in International Criminal Law will appreciate the valuable contribution the author makes to the debate concerning the development of solid and balanced legal tools in the struggle for worldwide justice and security.
Juliet R. Amenge Okoth is presently working in the Department of Commercial Law of the University of Nairobi, Kenya.
Available for download

Frontmatter, incl. Table of Contents