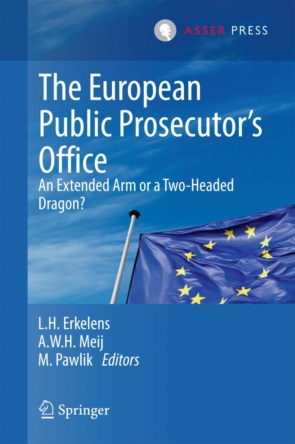 The European Public Prosecutor's Office: An Extended Arm or a Two-Headed Dragon?
October 2014
Order
Details
Published:

October 2014

Pages:

x + 285 pp.

Publisher:

T.M.C. ASSER PRESS

Distributor:

Springer
In July 2013 the European Commission launched its legislative proposal to create a European Public Prosecutor's Office (EPPO). The proposal provoked fierce debates, politically as well as on the academic level. Many national parliaments opposed and submitted formally their grievances to the Commission and negotiations on the proposal between Member States are ongoing. As early as September 2013, the T.M.C. Asser Instituut in The Hague, The Netherlands, held the first international conference on this unprecedented proposal.
This book reflects the main results of that conference. It provides a concise background of and reasoning for the introduction of this new EU body entrusted with far reaching judicial powers disclosing important legal and policy implications. Within its hitherto limited scope, the existing system of judicial cooperation between EU Member States will change fundamentally, directly affecting the functioning of national courts and public prosecution offices. This book helps to answer the fundamental questions involved. It provides a solid basis for both academics and practitioners to further structure an EPPO, respecting the interests of all parties involved.
At the time of writing and editing this volume, Leendert Erkelens and Arjen Meij were both Visiting Research Fellow at the T.M.C. Asser Instituut in The Hague, The Netherlands. Marta Pawlik was a Research Assistant in the same Institute.
Available for download

Frontmatter, incl. Table of Contents