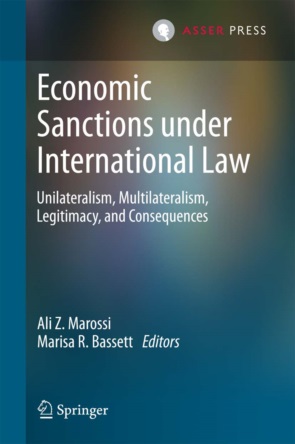 Economic Sanctions under International Law - Unilateralism, Multilateralism, Legitimacy and Consequences
March 2015
Order
Details
Published:

March 2015

Pages:

xvii + 249 pp., 1 ill. (fc)

Publisher:

T.M.C. ASSER PRESS

Distributor:

Springer
Since the Second World War, States have increasingly relied upon economic sanctions programs, in lieu of military action, to exert pressure and generally to fill the awkward gap between verbal denunciation and action. Whether or not sanctions are effective remains a point of contention among policymakers. Frequently asked questions include whether any legal order constrains the use of sanctions, and, if so, what the limits on the use of sanctions are. This volume gathers contributions from leading experts in various relevant fields providing a seminal study on the limits of economic sanctions under international law, including accountability mechanisms when sanctioning States go too far. Where there are gaps in the law, the authors provide novel and important contributions as to how existing legal structures can be used to ensure that economic sanctions remain within an accepted legal order.
This book is a most valuable contribution to the literature in the fields of international economic law, public international law, and international dispute resolution.
Ali Z. Marossi is an advisory board member of The Hague Center for Law and Arbitration. Marisa R. Bassett is Associate Legal Officer in the Office of the Prosecutor for the ICTY and former Associate at White & Case LLP.
An excerpt from a review (in French):
Pour conclure, il s'agit d'un ouvrage écrit par des juristes internationalistes, pour des juristes internationalistes. L'organisation claire des idées, la technicité avancée des arguments et l'abondance d'illustrations doctrinales et jurisprudentielles en font une monographie solide. L'ouvrage répond aux questionnements entourant la légalité des sanctions économiques et milite pour le respect du droit international et de la Charte. C'est un excellent plaidoyer en faveur du respect du droit international public capable d'encadrer les sanctions économiques afin que celles-ci puissent se déployer sans porter atteinte au droit humanitaire.
Jeanne Belcour, « Ali Z Marossi et Marisa R Bassett, dir, Economic Sanctions under International Law. Unilateralism, Multilateralism, Legitimacy, and Consequences, La Haye, TMC Asser Press, 2015 », Droit international général, 3 décembre 2017, Revue québécoise de droit international, https://www.sqdi.org/fr/ali-z-marossi-et-marisa-r-basset-dir-economic-sanctions-under-international-law-unilateralism-multilateralism-legitimacy-and-consequences-la-haye-tmc-asser-2015/
English translation of the excerpt:
To conclude, this is a book written by international lawyers for international lawyers. The clear organisation of the ideas, the advanced technicality of the arguments and the abundance of doctrinal and jurisprudential examples make it a solid volume. The work responds to questions surrounding the legality of economic sanctions and makes the case for respect for international law and for that of the Charter. It is an excellent argument in favour of respect for public international law capable of defining economic sanctions so that they can be applied without human rights being infringed.
Available for download

Frontmatter, incl. Table of Contents