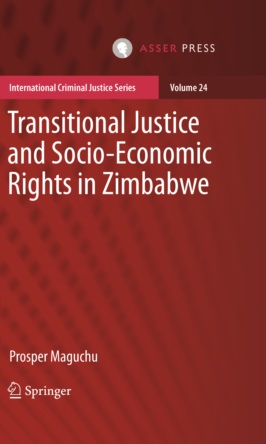 Transitional Justice and Socio-Economic Rights in Zimbabwe - International Criminal Justice Series
August 2019
Order
Details
Published:

August 2019

Pages:

XIII, 175 p. 3 illus., 1 illus. in colour

Publisher:

T.M.C. ASSER PRESS

Distributor:

Springer
This book addresses the issue of corruption as a socio-economic rights concern at a national level. Zimbabwe's widespread corruption inhibited its development in all aspects. It weakened institutions, especially those called upon to arbitrate political and economic contests, leading to potential human rights violations.
However, Zimbabwe saw a change of government in November 2017. In this context, there seemed to be an opening to work towards reform in relation to the anti-corruption architecture. Specifically, the new era provides an opportunity to review how accountability mechanisms (including but not limited to amnesties, truth commissions, institutional reforms and prosecutions) can address corruption as a socio-economic rights violation.
As the government still tries to address competing priorities, many moving parts and various matrixes, this volume in the International Criminal Justice Series provides a timely frame for revisiting the debate and developing the strategic thinking regarding transitional justice options in Zimbabwe.
It will be of great interest to practitioners, policy makers, scholars and students in the fields of anti-corruption, socio-economic and human rights, and transitional justice.
Prosper Maguchu is Visiting Assistant Professor at the Centre for the Politics of Transnational Law of the Vrije Universiteit Amsterdam, The Netherlands.
Specific to this book:
Contains international legal terminology in understandable language;
Contrary to many books on transitional justice in Zimbabwe, this is the first to deal with corruption;
One of the few books to address socio-economic and/or human rights issues in Zimbabwe after the November 2017 military intervention.
This is Volume 24 in the International Criminal Justice Series
Download more information

Front matter incl. table of contents