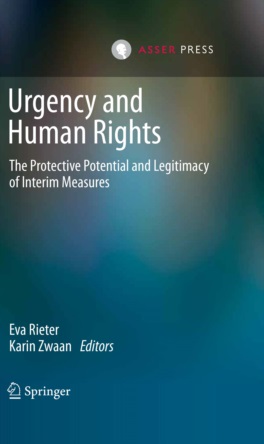 Urgency and Human Rights - The Protective Potential and Legitimacy of Interim Measures
January 2021
Order
Details
Published:

January 2021

Pages:

xi+319 p. (1 fc figure)

Publisher:

T.M.C. ASSER PRESS

Distributor:

Springer
This book deals with urgency and human rights. 'Urgent' is a word often used, in very different contexts. Yet together with a reference to human rights violations, it likely triggers images of people caught up in armed conflict, facing terror from either the state, gangs, paramilitaries, or terrorists. Or of people fleeing terror and facing walls, fences or seas, at risk of being returned to terror, or ignored, neglected, abused, deprived of access to justice and basic facilities, facing death, torture and cruel treatment. Here these both ongoing and expected violations are explored in the context of (quasi-)judicial proceedings as international tribunals and domestic courts are increasingly called upon to order interim measures or accelerate proceedings in such cases.
This edited volume concerns the protective potential of interim measures in international human rights cases and the legitimacy of their use and discusses obstacles to their persuasive use, to clarify how their legitimacy and protective potential could be enhanced in the context of concrete legal cases. Examining this is especially pressing when courts and (quasi-)judicial bodies have used interim measures in response to requests by individuals and organisations in the context of issues that are unpopular with governments and/or controversial within society, which has led states to at times employ political pressure to limit their use.
Urgency and human rights are discussed from the vantage point of various practitioners and scholars, with the aim of identifying how interim measures could be legitimate and protective and to single out obstacles to their implementation. Drawing from practices developed in various international and regional adjudicatory systems, the contributors provide their perspectives on the legitimacy and/or the protective potential of interim measures and other (quasi-)judicial proceedings in urgent human rights cases.
There is considerable discussion about how interim measures can be legitimate and well-functioning tools to address urgent human rights cases. This book aims to contribute to the ongoing discussion in this respect.
Dr. Eva Rieter is senior researcher and lecturer public international law and human rights law at the Centre for State and Law, Radboud University, Nijmegen, The Netherlands.
Dr. Karin Zwaan is associate professor in the Department of Migration Law at the Centre for State and Law, Radboud University, Nijmegen, The Netherlands.
Specific to this book:
Discusses urgency and human rights from the vantage point of various practitioners and scholars
Presents approaches and ideas by legal scholars and practitioners on the question whether interim measures can be useful tools in the face of urgent human rights situations
Provides an insight into the protective potential of interim measures, with a special focus on protection gaps and obstacles
Available for download

Front matter incl. table of contents