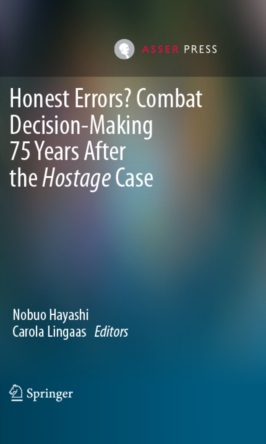 Honest Errors? Combat Decision-Making 75 Years After the Hostage Case
October 2023
Order
Details
Published:

October 2023

Pages:

xv + 306 pp., 6 ill. (1 fc)

Publisher:

T.M.C. ASSER PRESS

Distributor:

Springer
This book marks the 75th anniversary of the 1948 Hostage Case in which a US military tribunal in Nuremberg acquitted General Lothar Rendulic of devastating Northern Norway on account of his honest factual error. The volume critically reappraises the law and facts underlying his trial, the no second-guessing rule in customary international humanitarian law (IHL) that is named after the general himself, and the assessment of modern battlefield decisions.
Using recently discovered documents, this volume casts major doubts on Rendulic's claim that he considered the region's total devastation and the forcible evacuation of all of its inhabitants imperatively demanded by military necessity at the time. This book's analysis of archival and court records reveals how the tribunal failed to examine relevant facts or explain the Rendulic Rule's legal origin. This anthology shows that, despite the Hostage Case's ambiguity and occasional suggestions to the contrary, objective reasonableness forms part of the reasonable commander test under IHL and the mistake of fact defence under international criminal law (ICL) to which the rule has given rise. This collection also identifies modern warfare's characteristics—human judgment, de-empathetic battlespace, and institutional bias—that may make it problematic to deem some errors both honest and reasonable. The Rendulic Rule embodies an otherwise firmly established admonition against judging contentious battlefield decisions with hindsight. Nevertheless, it was born of a factually ill-suited case and continues to raise significant legal as well as ethical challenges today.
The most comprehensive study of the Rendulic Rule ever to appear in English, this multi-disciplinary anthology will appeal to researchers and practitioners of IHL and ICL, as well as military historians and military ethicists and offers ground-breaking new research.
Nobuo Hayashi is affiliated to the Centre for International and Operational Law at the Swedish Defence University in Stockholm, Sweden.
Carola Lingaas is affiliated to the Faculty of Social Studies at VID Specialized University in Oslo, Norway.
Available for download

Front matter incl. acknowledgements and toc