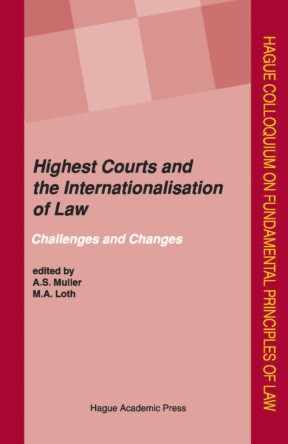 Highest Courts and the Internationalisation of Law

Series: Hague Colloquium on Fundamental Principles of Law Series
2009
Order
In today's world of globalisation the position of the highest national courts is changing. Traditionally, the highest courts have the task of safeguarding the coherency of law within the territory of their jurisdiction. Being at the top of the hierarchy of courts in their country, there was no other authority above them. This picture is being thoroughly disturbed by the internationalisation of law, which has brought the domestic legal systems into close contact with each other and which has created hierarchies among the highest national courts.
This book is an important tool for national judges, judges and staff of international courts, civil servants at ministries of justice, and others studying or practising law on the dividing line between the national and international level. It contains a reflection of the exchange of views that took place during a session of the Hague Colloquium on the Fundamental Principles of Law, which sought to identify the challenges which emerge for the highest national courts in an internationalising world.
Sam Muller is Director of the Hague Institute for the Internationalisation of Law (HiiL), The Hague, the Netherlands. Marc Loth was Dean and Professor of jurisprudence and legal theory at the Erasmus School of Law, Erasmus University Rotterdam, the Netherlands at the time of working on this book. He is a member of the Dutch Hoge Raad (Supreme Court).
Available for download