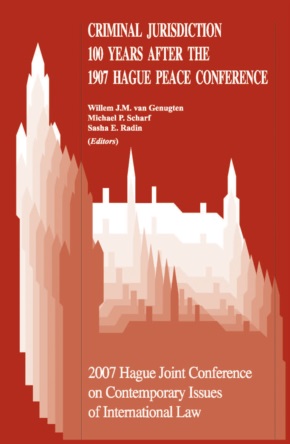 Criminal Jurisdiction 100 Years after the 1907 Hague Peace Conference - 2007 Hague Joint Conference on Contemporary Issues of International Law

Series: Hague Joint Conference on Contemporary Issues of International Law Series
2009
Order
The 8th Hague Joint Conference honored the centennial anniversary of The 1907 Hague Conference, which launched the modern era of international humanitarian law. The provisions adopted at the 1907 Hague Conference formed the basis for, amongst other things, the later promulgation of the 1949 Geneva Conventions. Moreover, the so-called "Martens Clause" in the 1907 Hague Convention IV served as a foundation for the concept of crimes against humanity. Held from 28-30 June 2007, the 8th Hague Joint Conference was attended by an interesting mix of established experts and international institutional 'insiders' as well as promising newcomers, practitioners and academics, which resulted in lively debate. Most of the participating speakers' contributions are included in this book.
The Conference consisted of a series of key note addresses and panels focusing on salient issues in international humanitarian law and criminal jurisdiction. The topics include the battle against impunity, the head of State immunity for former leaders and lessons learned from the trials of Slobodan Milosevic, Charles Taylor, and Saddam Hussein; the need for a comprehensive anti-terrorism convention and the judicial review of internationally-enacted anti-terror measures; the defining, suppressing and trying of genocide; the issues of truth commissions, accountability and the International Criminal Court, as well as the future of the International Criminal Court; corporate liability for human rights crimes; international humanitarian intervention in the post-9/11 era; the plundering of natural resources and destruction of the environment in times of armed conflict, and, finally, ways of dealing with present-day conduct of hostilities.
The 8th Hague Joint Conference, entitled Criminal Jurisdiction 100 Years after the 1907 Hague Peace Conference, was organized by the Foundation "The Hague Joint Conferences on International Law" in which the American Society of International Law, the Netherlands Society of International Law and the T.M.C. Asser Instituut participate. The editors of the present book acted as academic co-chairs of the Conference.
Available for download