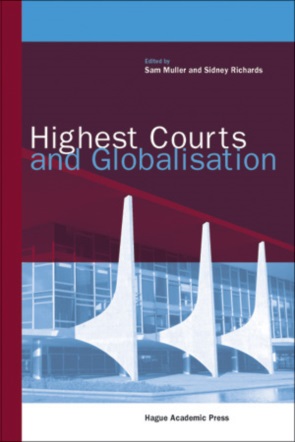 Highest Courts and Globalisation
2010
Order
One of the main tasks of highest courts is the maintenance of legal coherency within the national legal system. Highest courts should also observe national legislation to be in conformity with the constitution and international treaties.
In the internationalising world of today, societies and legal systems increasingly interact. This has consequences for highest national courts which also increasingly interact with each other. The authors in this book investigate the implications of these phenomena for theory and practice. As leading scholars and distinguished judges they offer a unique and unprecedented perspective on the issue of highest courts and globalisation.
This book is therefore highly recommended to judges and practitioners in national and international courts, academics, parliamentarians and civil servants of national ministries of justice and the interior.
Law of the Future Conferences
'Law of the Future' is the top level international and multidisciplinary conference series initiated by The Hague Institute for the Internationalisation of Law (HiiL). These conferences explore how law is changing and should change under the pressure of globalisation and internationalisation, and how the roles of international actors and stakeholders will or must change as a consequence. The 'Law of the Future' conference series bridges practice and academia. The Changing Role of Highest Courts in an Internationalising World was the theme of the October 2008 Law of the Future Conference, which was held in The Hague, The Netherlands.
Available for download