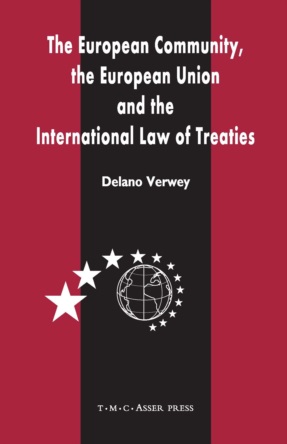 The European Community, the European Union and the International Law of Treaties - A Comparative Legal Analysis of the Community and Union's External Treaty-Making Practice
2004
Order
In the past decades the European Community and, to a lesser extent, the European Union have concluded and become a party to a great number of bilateral and multilateral international agreements. In some cases the Community or the Union acts as the sole contracting party but in an increasing number of cases the Community acts as a joint contracting party alongside the Member States. The author analyses to what extent the Community and the Union apply or are bound by the existing rules of international treaty law as embodied in the two Vienna Conventions and customary international law. His analysis is preceded by an extensive description of the Community and Union's external treaty-making powers. The study is completed with a number of concrete proposals regarding the manner in which the law of treaties should be amended in order to regulate more effectively the treaty relations of the European Community and the European Union, in particular in the case of mixed agreements.
The case law referred to in the book has been compiled in a Table of Cases. Furthermore, the book contains a list of selected documents and an extensive bibliography, covering the Community practice from the 1960s up to the present. And last but not least, the accessibility of the book is greatly enhanced by a subject index.
This book will be of interest to practitioners in EU Law, International Law and the Law of International Organizations as well as to specialists who work for the Foreign Office in different countries and specialists within International Organizations.
Delano Ruben Verwey is an Assistant Professor of the Law of the European Union, Erasmus University Rotterdam, The Netherlands.
Available for download