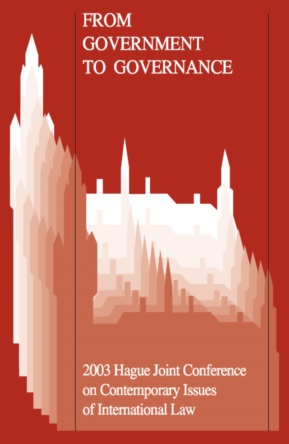 From Government to Governance - The Growing Impact of Non-State Actors on the International and European Legal System - 2003 Hague Joint Conference on Contemporary Issues of International Law

Series: Hague Joint Conference on Contemporary Issues of International Law Series
2004
Order
The making, application and enforcement of international law are no longer confined to national States. A rapidly growing number of non-State actors also play a role. These actors are rather heterogeneous. Their role, representativeness and thus legitimacy greatly differ. However, they have in common that they challenge basic assumptions on which international law and international relations have been based. These challenges include the gradual replacement of traditional diplomatic relations by networks of national government officials interacting with one another across borders. These government networks are in turn often embedded in larger 'global policy networks' that involve a wide variety of non-state actors - NGOs, corporations, individual experts, and intergovernmental organizations. New forms of accountability for these non-State actors are also emerging.
'From Government to Governance' was the central topic of the 2003 Hague Joint Conference, a conference attended by many practitioners and academics not only from the United States and Europe, but also from other parts of the globe. The second main topic was terrorism in its relation to international and/or criminal law. The variety of opinions made the discussions lively and worth listening to. Together with the introductions by the speakers, they are included in the present volume. They will challenge the reader to formulate his or her own opinion and to take part in the ongoing debate that should control and steer the march from Government to Governance. The accessibility of the contents is greatly enhanced by a Subject Index and an Index of Names.
This Sixth Hague Joint Conference was organized by 'The Hague Joint Conferences on International Law' Foundation, in which the American Society of International Law, the Netherlands Society of International Law, the Municipality of The Hague and the T.M.C. Asser Institute, The Hague, participate. The Conference was held in The Hague in July 2003.
With a Preface by Rein Jan Hoekstra, Chairman of the Foundation The Hague Joint Conferences on International Law.
Available for download