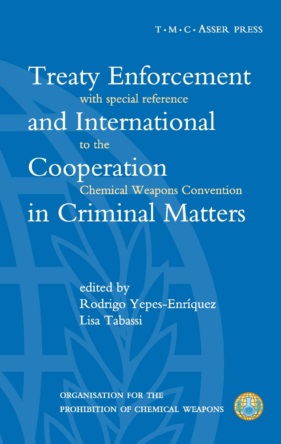 Treaty Enforcement and International Cooperation in Criminal Matters - With Special Reference to the Chemical Weapons Convention
2002
Order
Each State Party shall cooperate with other States Parties and afford the appropriate form of legal assistance…
These words mark the beginning of the obligation for states to work together to enforce a multilateral normative treaty. Terrorism and transnational criminal activity heighten the need for harmonisation and improved coordination between enforcement agencies internationally.
This volume addresses current national, regional and international practice from the perspective of 'lessons learned' by government officials, private practitioners, prosecutors, police and customs officials, staff members of international courts or treaty-implementing bodies, and academics who gathered in an OPCW international symposium in February 2001. Their work has since been updated and supplemented to include considerations emerging in the aftermath of 11 September 2001.
Topics include problems with divergent national implementing legislation, concurrent jurisdiction, extradition, the role of victims and witnesses, export controls, protection of national security or confidential business information in judicial proceedings, and terrorism.
With a Preface by John Gee, Acting Director-General of the OPCW.
Available for download

OPCW Tty Enforcement Preface

OPCW Tty Enforcement Summary of Contents