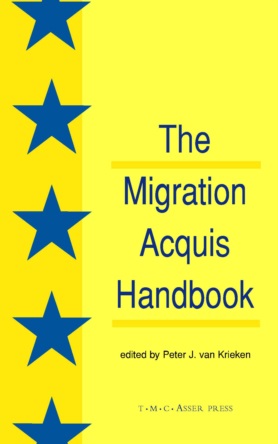 The Migration Acquis Handbook - The Foundation for a Common European Migration Policy
2001
Order
Europe has finally started to debate migration. A timely debate indeed, as many migrants have over the last 30 years entered the European Union without the cover of a proper and well-defined policy. The Migration Acquis Handbook (a companion to The Asylum Acquis Handbook) describes and provides the foundation for a common European Migration Policy.
It provides an overview of EU instruments in an accessible and transparent manner, pays due attention to EC Commissioner Vitorino's communication on migration and his call for a debate; reproduces relevant non-European international (UN) instruments; moreover includes an overview of the context and contents of the most hotly-contested issues: ageing and demography, globalization, illegal migration, trafficking and family reunification.
This handbook should be considered an extremely useful tool, if not indispensable, for the executive, students, policy makers, the media and all others interested in this exceedingly important topic.
Dr Van Krieken is actively involved in European migration, refugee and asylum policy issues under CIREA, Phare assessment missions and related Twinning, Odysseus and Horizontal Programmes
Available for download

Migration Acquis Table of Contents