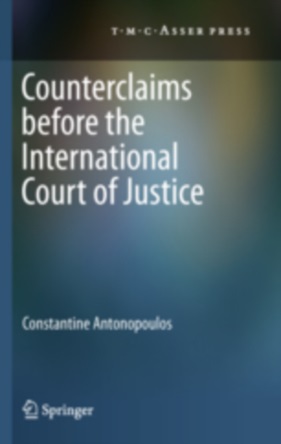 Counterclaims before the International Court of Justice
2011
Order
Details
Published:

2011

Pages:

177 pp.

Publisher:

T.M.C. ASSER PRESS

Distributor:

Springer
Counterclaims, the right of a State sued by another State to bring its own counter-suit in the course of the same trial, may offer an opportunity to mitigate the effects of the original suit and help to resolve disputes between States that have more than one aspect. In recent years, counterclaims have been frequently presented at the International Court of Justice (ICJ).
This book examines the counterclaims presented at the ICJ and at its predecessor, the Permanent Court of International Justice (PCIJ), during its 65 years of existence. It is the first study that focuses exclusively on the subject of counterclaims. It analyses the evolution of the germane provisions in the PCIJ and ICJ Rules of Procedure and the practice of the Court, especially in light of the relevant case-law of the ICJ.
This book is a useful source of information for academics and practitioners in International law and provides a solid basis for further research.
Dr. Constantine Antonopoulosis is an Assistant Professor of International Law in the Democritus University of Thrace, Greece.
Available for download