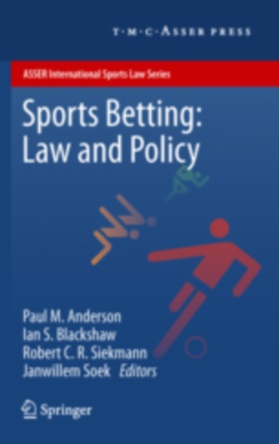 Sports Betting: Law and Policy

Series: ASSER International Sports Law Series
2011
Order
Details
Published:

2011

Pages:

1029 pp.

Publisher:

T.M.C. ASSER PRESS

Distributor:

Springer
Betting and sport have been - to some extent - uneasy bedfellows probably since the dawn of time. After all, the essence of sport is fair play and illegal and unfair betting arrangements and the manipulation of the outcomes of sporting events are completely anathema and contrary to this fundamental concept and principle. Of course, with preventive measures in place, sport and betting can - and do, in fact - co-exist for their mutual benefit. National lotteries raise substantial sums of money for "good causes", which include the funding of sports events and sports persons. In the last decade sports betting has changed quite fundamentally with the advent of modern technology – not least the omnipresence of the Internet and the rise of on-line sports betting.
This book looks at the law and the policy on betting and sport in more than forty countries around the world. Several chapters deal with the United States of America. In addition, several contributions deal with the way national legislation on sports betting is scrutinized in the jurisprudence of the European Court of Justice.
Sports Betting: Law and Policy, a publication in which a mine of useful information on an important subject of national and international sports law is assembled, is heartily commended to sports lawyers and all others with a particular professional, academic and policy interest in the subject, including those who are involved in the organisation and administration of national lottery schemes benefitting sport.
The editing team consisted of Prof. Paul Anderson, Associate Director, National Sports Law Institute, Marquette University Law School, Milwaukee, United States of America, Prof. Ian Blackshaw, Member of the Court of Arbitration for Sport, Prof. Robert Siekmann, and Dr Janwillem Soek, both of the ASSER International Sports Law Centre, The Hague, The Netherlands.
With a Foreword by Tjeerd Veenstra, Director of the Dutch De Lotto and Second Vice-President of The European Lotteries.
This book appears in the ASSER International Sports Law Series, under the editorship of Prof. Dr. Robert Siekmann, Dr. Janwillem Soek and Marco van der Harst LL.M.
Available for download

Frontmatter, incl. Foreword and Table of Contents