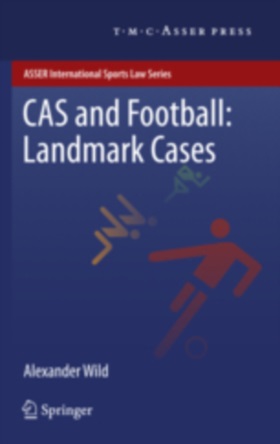 CAS and Football: Landmark Cases

Series: ASSER International Sports Law Series
2011
Order
Details
Published:

2011

Pages:

280 pp.

Publisher:

T.M.C. ASSER PRESS

Distributor:

Springer
The Court of Arbitration for Sport (CAS), which is in its twenty-seventh year of operation, is establishing itself in the sporting world, as its founders intended, as the 'Supreme Court of World Sport'. Claimed to be the world's favourite sport – and it must be added: the world's most lucrative one – football, not surprisingly, is providing the CAS with a lot of cases, especially disputes on international transfers of football players, since football's world governing body, FIFA, joined the CAS in 2002.
This book deals with the most important decisions of CAS in football disputes. The awards are analyzed by experts, practicing all over the world. Most of the authors were directly involved in the proceedings before the CAS. The commentaries cover a broad spectrum of disputes, such as contractual stability, protection of young football players, doping, football hooliganism, match fixing, players release, multiple club ownership, player agents and the stays of execution.
The book fills a gap in the international sports law literature and provides an invaluable resource for all those involved in the legal aspects of the 'beautiful game', particularly extra-judicial dispute resolution, including administrators, regulators, football agents and their legal advisers. The book will also prove very useful to students and researchers in this particular field.
Alexander Wild is an Attorney-at-law at the law firm of Dr. Falkenstein & Partner, Stuttgart, Germany, and a former research fellow of the ASSER international Sports Law Centre, The Hague, The Netherlands.
With a Foreword by Prof.dr. Amaresh Kumar, Advocate, Supreme Court of India, New Delhi, and Secretary General of the Asian Council of Arbitration for Sport (ACAS)
This book appears in the ASSER International Sports Law Series, under the editorship of Prof. Dr. Robert Siekmann, Dr. Janwillem Soek and Marco van der Harst LL.M.
Available for download

Frontmatter, incl. Foreword and Table of Contents