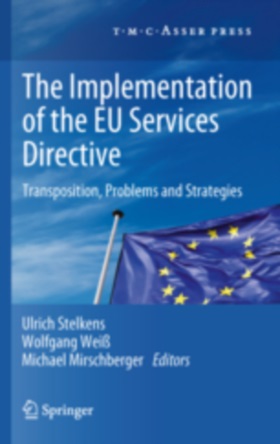 The Implementation of the EU Services Directive - Transposition, Problems and Strategies
2012
Order
Details
Published:

2012

Pages:

665 pp.

Publisher:

T.M.C. ASSER PRESS

Distributor:

Springer
The EU Services Directive is one of the cornerstones for the realization of the EU internal market and is fundamental to economic and legal experts in governments, trade and industry, as well as to the general public. This book analyses in detail the different steps taken by each of 26 EU Member States (all but Greece) in the implementation process of the Services Directive.
It provides not only detailed information about the changes in national law adopted by the Member States, but also facilitates a comparison of the different implementation strategies. It gives an insight in the heterogeneity or homogeneity of implementation concepts and shows how European legislation affects legislation that was originally nationally dominated, such as the law of national administration.
This book is valuable reading for academics interested in European and administrative law and the transposition of European directives into domestic law, as well as for practitioners and civil servants in ministries, chambers of commerce, local governments and other comparable institutions having to implement the Directive.
Ulrich Stelkens and Wolfgang Weiß are both University Professors of Law at the German University of Administrative Sciences Speyer and Ordinary Members of the German Research Institute for Public Administration Speyer, Michael Mirschberger (Ass. Jur.) is scientific assistant at the German University of Administrative Sciences Speyer.
Available for download

Frontmatter, incl. Table of Contents