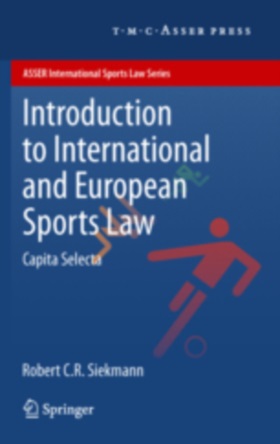 Introduction to International and European Sports Law - Capita Selecta

Series: ASSER International Sports Law Series
2012
Order
Details
Published:

2012

Pages:

425 pp.

Publisher:

T.M.C. ASSER PRESS

Distributor:

Springer
This book is an introduction to sports law, in particular international (worldwide) and European sports law. After addressing the core concept of "sport specificity" (that is whether private sporting rules and regulations can be justified notwithstanding they are not in conformity with public law), the author dwells on specific themes (capita selecta): the character of sports law, the specificity of sporting rules and regulations, comparative sports law, competition law and sport, the collective selling of TV rights, sports betting, social dialogue in sport, sport and nationality, professional football transfers; anti-doping law in sport, transnational football hooliganism in Europe, and international sports boycotts.
In this book association football ("soccer") is the sport that is by far most on the agenda. It is the largest and most popular sport all over the globe. The elite football in Europe is a commercialized and professionalized industry, which makes it a perfect subject of study from an EU Law perspective.
The book is essential reading for sports lawyers, academics, students and researchers and in general for all those with an interest in sport and the continually evolving interface and interaction that exists between sport and the law, as well as the different ways in which they influence one another.
Prof. Dr. Robert Siekmann is Director of the ASSER International Sports Law Centre, The Hague and Professor of International and European Sports Law at Erasmus University Rotterdam, The Netherlands.
This book appears in the ASSER International Sports Law Series, under the editorship of Prof. Dr. Robert Siekmann, Dr. Janwillem Soek and Marco van der Harst LL.M.
Available for download

Frontmatter, incl Table of Contents
Book Review by Prof. Ian Blackshaw