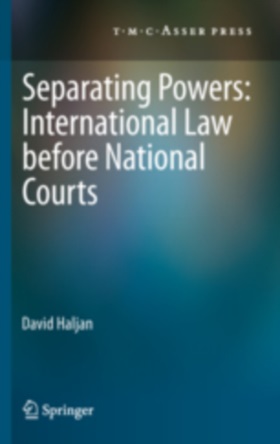 Separating Powers: International Law before National Courts
2013
Order
Details
Published:

2013

Pages:

XIV+326 p.

Publisher:

T.M.C. ASSER PRESS

Distributor:

Springer
The more international law, taken as a global answer to global problems, intrudes into domestic legal systems, the more it takes on the role and function of domestic law. This raises a separation of powers question regarding law-making powers. In this book the author considers that specific issue.
In contrast to other studies on domestic courts applying international law, the author's constitutional orientation focusses on the presumptions concerning the distribution of state power. He collects and examines relevant decisions regarding treaties and customary international law from four leading legal systems, the US, the UK, France, and the Netherlands. Those decisions reveal that institutional and conceptual allegiances to constitutional structures render it difficult for courts to see their mandates and powers in terms other than exclusively national. What follows is a constitutional asymmetry between international law and national law generating an inevitable dualism which cannot necessarily be overcome by express constitutional provisions accommodating international law. The separation of powers thus frames the two principal horizons for any future, practicable attempts at integrating of the two legal orders. Either established concepts of constitutional law and constitutionalism will have to be revised, or what international law may do within a municipal legal system will have to be recalculated.
This book offers new insight and new approaches in dealing with international law questions before domestic courts. It is an interesting work of reference and a basis for further debate on this topic among academics and practitioners in the fields of international and constitutional law.
David Haljan is a Senior Research Fellow with the Institute of Constitutional Law, University of Leuven, Belgium.
Available for download

Frontmatter, incl. Table of Contents