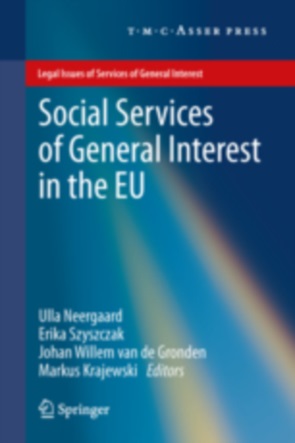 Social Services of General Interest in the EU

Series: Legal Issues of Services of General Interest
2013
Order
Details
Published:

2013

Pages:

xxiv + 622 pp.

Publisher:

T.M.C. ASSER PRESS

Distributor:

Springer
The EU has limited legislative competence in the field of social law. However, the Member States are increasingly modernizing social services and social (welfare) protection, attempting to make social services more efficient by increasingly looking to the market for the provision of such services. This policy move brings social services into the radar of EU law. The EU response to this sensitive issue has resulted in a piecemeal and fragmented approach towards the treatment of a new policy area of Social Services of General Interest (SSGI) in EU law and policy.
This book is a first contribution towards charting how SSGI have emerged as a special category of SGI in the EU, the reaction of the Member States and stake-holders and how policy is being made through new governance processes, carve-outs and safe havens in legislation and soft law, especially in the light of the new values of the EU introduced by the Treaty of Lisbon 2009. It takes an inter-disciplinary approach and will be of interest to lawyers, economists and political scientists who are interested in EU policy-making as well as practioners, EU and national policy-makers.
Ulla Neergaard is Professor of EU law at the Faculty of Law, University of Copenhagen, Denmark. Erika Szyszczak is a Jean Monnet Professor of European Law ad personam, Professor of European Competition and Labour Law at the University of Leicester and Barrister at Littleton Chambers, UK. Johan W. van de Gronden is Professor of European Law at the Radboud University of Nijmegen, The Netherlands. Markus Krajewski is Professor of Public and International law at the University of Erlangen-Nuremberg.
The Legal Issues of Services of General Interest Series
The aim of the series Legal Issues of Services of General Interest is to sketch the framework for services of general interest in the EU and to explore the issues raised by developments related to these services.
Available for download

Frontmatter, incl. Table of Contents
Bookreview CMLR vol 51-3 2014

Bookreview EL Rev. June 2014