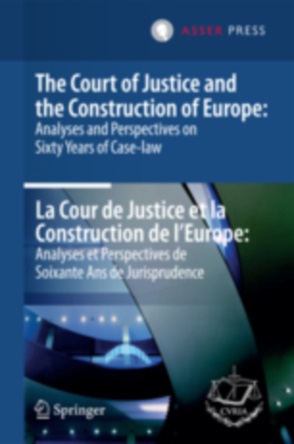 The Court of Justice and the Construction of Europe: Analyses and Perspectives on Sixty Years of Case-law - La Cour de Justice et la Construction de l'Europe: Analyses et Perspectives de Soixante Ans de Jurisprudence
2012
Order
Details
Published:

2012

Pages:

VII, 843 p.

Publisher:

T.M.C. ASSER PRESS

Distributor:

Springer
This book is a contributed volume published by the Court of Justice of the European Union on the occasion of its 60th anniversary. It provides an insight into the 60 years of case-law of the Court of Justice and its role in the progress of European Integration. The book includes contributions from eminent jurists from almost all the EU Member States.
All the main areas of European Union are covered in a systematic way. The contributions are divided into four sections dedicated respectively to the role of the Court of Justice and the Judicial Architecture of the European Union, the Constitutional Order of the European Union, the Area of EU Citizens and the European Union in the World. The topics covered will remain of interest for several years to come.
This unique book, a "must-have" reference work for Judges and Courts of all EU Member States and candidate countries, and academics and legal professionals who are active in the field of EU law, is also valuable for Law Libraries and Law Schools in Europe, the United States of America, Latin America, Asia and Africa and law students who focus their research and studies on EU law.
Available for download


Frontmatter incl. Table of Contents