One Year of MATRA-Ukraine
Published 28 July 2021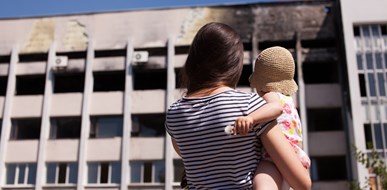 The T.M.C. Asser Instituut's and Global Rights Compliance's (GRC) capacity building project MATRA-Ukraine is celebrating its first birthday. Through the project, specialised knowledge is shared to strengthen the capacity of the Office of the Prosecutor General's War Crimes Unit, the Ukrainian judiciary, and a range of other criminal justice actors. The project also aims to empower civil society in Ukraine to investigate, prosecute, adjudicate and monitor international crimes.
"Thank you for the practical and useful presentations that will be used in our professional work"

 

– Ukrainian prosecutor and participant in our February Exchange Meeting.
Background
Since the events surrounding the 2014 "Revolution of Dignity" – where over 100 protesters and security personnel were killed – Ukraine has been profoundly affected by armed conflict. In late February 2014, the region of Crimea was occupied by unidentified armed men (later acknowledged to have been Russian military) who gained control over the area. Shortly after, armed groups in the Donetsk and Luhansk regions of Eastern Ukraine declared the separation of areas under their control from Ukraine. Protracted armed conflict ensued and continues to the present day along largely static frontlines. This current situation exists despite several attempts to end the conflict by the international community.
The situation in Eastern Ukraine has given rise to reliable allegations of the perpetration of international crimes, particularly war crimes and crimes against humanity. Specific allegations include killings, enforced disappearances, torture and sexual abuse. In response, the Government of Ukraine has started to take steps to ensure accountability for those responsible. Measures taken include the establishment of the specialised War Crimes Unit to investigate and prosecute such crimes and the adoption of a draft bill that aims to incorporate the Rome Statute of the International Criminal Court into domestic Ukrainian law.
Sharing best practices 
In the past year, the Asser Instituut and GRC have hosted several successful capacity building events to assist Ukrainian actors in this pursuit of accountability. For example, in February 2021, a two-day virtual exchange meeting was held for Ukrainian investigators and prosecutors, where several experts from a range of international and national backgrounds, including from Georgia and the Netherlands, shared their experiences and recommendations. During this month, a two-day advanced online seminar was also held for journalists and CSOs on the documentation of a variety of international crimes and other human rights violations.
Moreover, in June 2021, the Asser Instituut hosted a two-day exchange meeting which brought Ukrainian judges together with several international and domestic speakers with experience adjudicating international crimes, from the ICTY, to the Kosovo Specialist Chambers, to Georgia and the Balkan regions. The event was a success in promoting discussions and sharing best practices and substantive and practical advice.
Building resources

The first year of the project also saw the creation of a dedicated MATRA-Ukraine website which comprises background information and useful resources. Project partner GRC also updated two reports, one regarding Ukraine's domestic implementation of International Humanitarian Law and another about Ukraine's relationship with the International Criminal Court.
Looking ahead
The second year of the project aims to focus further on providing strategic advice to Ukrainian actors in processing international crimes. Our further report on the best practices of War Crimes Units is due to be published later in 2021. At present, researchers at the Asser Instituut are also producing a comprehensive report which illustrates the best practices of a range of courts and tribunals in adjudicating international crimes with a view to offering strategic advice to the Ukrainian judiciary. In addition, the project team looks forward to expanding its reach to a wider range of criminal justice actors, civil society organisations and journalists in Ukraine over the coming year.