Podcast: 'Ukrainian War Crimes Trials with Ukrainian Judges'
Published 8 December 2022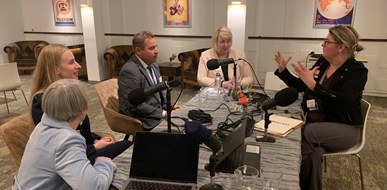 During the recent MATRA-Ukraine Conference organised by the T.M.C. Asser Instituut with Global Rights Compliance (GRC)
on 14 November 2022
,
Janet Anderson and Stephanie van den Berg from international justice podcast
"
Asymmetrical Haircuts
"
talked to Ukrainian judges Hanna Maina (Novomoskovskyi Court of Dnipropetrovsk) and Svitlana Yakovleva (Supreme Court of Ukraine)
about
the realities and pressures of the Ukrainian judiciary in adapting their work to the conflict and the role of the international system in supporting their efforts. For a broader perspective on these trials, Asymmetrical Haircuts also caught up with Gaiane Nuridzhanian from the National University of Kyiv-Mohyla Academy in Ukraine and the UiT-Arctic University of Norway.
They discuss topics from organisational solutions being taken to effectively tackle war crimes in domestic courts,
the experience at first-instance courts,
to whether Ukrainian defence lawyers can be fair, and what holistic justice like reparations may mean for Ukrainians.