Update on the Russian Invasion of Ukraine
Published 22 April 2022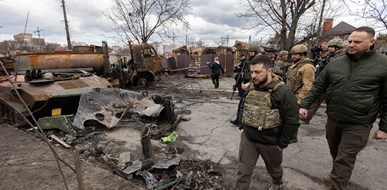 On 24 February 2022, Vladimir Putin announced that Russia would launch a "special military operation" in Ukraine. On the same day, missiles and airstrikes struck through Ukraine and were followed by a large ground invasion. In response, Ukrainian president Volodymyr Zelenskyy severed bilateral relations with Russia and enacted martial law.
Russia has launched attacks from a number of locations including from within Russian territory, from Belarus and from the regions of Crimea and Donbas. Russian troops have been entering Ukraine from four fronts – from the North towards Kyiv (originating from Belarus and Russia), from the South (originating from Crimea), from the Southeast (launched at Luhansk and Donetsk) and from the East. Each of these fronts have been pushing towards main cities across Ukraine. While fighting has been taking place on four fronts, the Russian military has also carried out air and missile strikes far into western Ukraine. Russian forces have also approached or besieged key settlements across Ukraine. Stiff Ukrainian resistance has slowed and hindered some of Russia's military gains.
A number of states and organisations have deplored Belarus for their assistance of Russia during the invasion. In late February 2022, Belarusian President Lukashenka announced that they agreed to keep Russian troops in Belarus after training exercises had been completed. Following the outbreak of the invasion, it has been widely reported that missiles have been launched from Belarusian territories into Ukraine. The Council of the European Union adopted sanctions against Belarus for their involvement in the aggression on 2 March 2022, with further sanctions being adopted on 9 March 2022. Belarus was among one of the 5 states which voted against the UN General Assembly resolution deploring Russia's actions.
As of 18 March 2022, over 3.2 million refugees have fled Ukraine whereas more than 6.5 million people estimated to be displaced internally. Many countries and international bodies have been giving assistance to Ukraine and its boarding nations who have been assisting with the outpour of refugees. Poland in particular has welcomed over 2 million refugees from Ukraine. The European Union has established a humanitarian program to help civilians affected by the war in Ukraine which includes aid in the form of food, water, healthcare and shelter. The European Union has also been providing military assistance to Ukrainian forces.
Negotiations have been ongoing between Russia and Ukraine and in late March 2022, Russia announced that it would ''reduce military activity'' near Kyiv and Chernihiv. Yet, evidence emerging from Ukraine has indicated that Russian forces continue to launch attacks in and around major Ukrainian cities. On 19 April 2022, Russia launched a large-scale assault on Eastern Ukraine, seizing the town of Kreminna. The United States have made claims that Russia's eastern attack on Ukraine is an attempt on the part of the Russian government to gain control over the city of Mariupol in order to secure a 'land-bridge' to Russian-controlled Crimea.