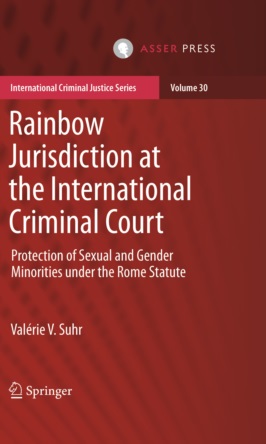 Rainbow Jurisdiction at the International Criminal Court - Protection of Sexual and Gender Minorities under the Rome Statute

Series: International Criminal Justice Series
December 2021
Order
Details
Published:

December 2021

Pages:

xvi + 400 pp.

Publisher:

T.M.C. ASSER PRESS

Distributor:

Springer
This timely book comprehensively examines whether the worst human rights violations directed specifically at sexual and gender minorities are punishable under international criminal law, as codified in the Rome Statute of the International Criminal Court.
Drawing on general rules of interpretation, the development of human rights for sexual and gender minorities, and the social construction of gender, this monograph reveals that the worst crimes committed against persons because of their sexual orientation or gender identity can amount to crimes against humanity, particularly the crime of persecution under Article 7(1)(h). It also shows how legislators can be held individually criminally responsible for passing laws that criminalize consensual same-sex sexuality.
The book not only makes a significant and original contribution to the literature but is also highly relevant for international criminal law practitioners, since, so far, no cases regarding this topic exist.
Dr. Valérie V. Suhr is currently a trainee lawyer in the district of the Koblenz Court of Appeal in Germany.
Specific to this book:
First time the protection of sexual and gender minorities under the Rome Statute has been analyzed comprehensively
Uses case groups of the most common kinds of violence against sexual and gender minorities, showing the legal arguments
Current issues of sexual orientation and gender identity are discussed regarding all aspects in law, politics and society
Excerpt from a book review in the Melbourne Journal of International Law:
Rainbow Jurisdiction at the International Criminal Court is an original and comprehensive analysis relevant to scholars, practitioners and students of international criminal law and international human rights law. In particular, it offers a rich contribution to a developing body of feminist, queer and critical scholarship investigating the protection and advancement of LGBTQIA+ rights in international criminal and transitional justice mechanisms.
- CAITLIN R BIDDOLPH, Postdoctoral Research Fellow in Gender and Global Governance, School of Social and Political Sciences, University of Sydney, Australia
Full article available at: https://law.unimelb.edu.au/__data/assets/pdf_file/0017/4360031/Biddolph-unpaginated.pdf
Excerpt from a book review in the Polish Yearbook of International Law 2021:
The monograph gathers both factual and legal argumentation and reasonably and convincingly proves the main thesis of the book: that persecution of sexual and gender minorities (SGM) should be penalized as a crime against humanity under Art. 7(1)(h) RS.
- Hanna Kuczynska, Associate Professor (dr. habil.), Institute of Law Studies of the Polish Academy of Sciences (Warsaw)
e-mail: hkuczynska@gmail.com; ORCID: 0000-0002-1446-2244
Full article available at: https://doi.org/10.24425/PYIL.2022.142350
This is Volume 30 in the International Criminal Justice Series
Available for download

Front matter incl. table of contents