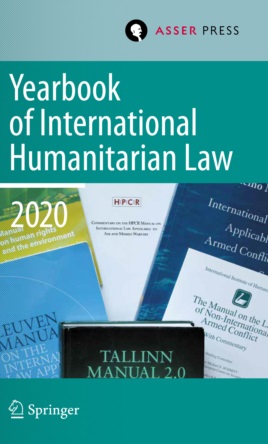 Yearbook of International Humanitarian Law, Volume 23, 2020

Series: Yearbook of International Humanitarian Law
February 2022
Order
Details
Published:

February 2022

Pages:

xii+271 pp.

Publisher:

T.M.C. ASSER PRESS

Distributor:

Springer
This volume of the Yearbook of International Humanitarian Law takes a close look at the role of so-called "expert manuals" in the interpretation and development of the international law of armed conflict and connected branches of international law relating to military operations. While these manuals can and do play an undoubtedly useful role, their proliferation raises a number of questions. What degree of authority do they have and how much weight should be given to the views expressed in them? What is the methodology they employ and how effective is it in ensuring an as objective and impartial interpretation of the law as possible? What is their place in the doctrine of sources? While there is already a considerable body of literature addressing these and other relevant questions, this volume aims to contribute further to this discussion with contributions by three experts involved in one or more of these manuals in one capacity or another.
Alongside these three contributions on this year's special theme, the second part of the book comprises three chapters that address timely and relevant issues of International Humanitarian Law. These range from starvation as a method of warfare, to emerging technologies of warfare, and also includes reflections on humanitarian assistance. Lastly, the volume concludes with the Year in Review, describing the most important armed conflict-related events and legal developments that took place in 2020.
The Yearbook of International Humanitarian Law is a leading annual publication devoted to the study of international humanitarian law. It provides a truly international forum for high-quality, peer-reviewed academic articles focusing on this crucial branch of international law. Distinguished by contemporary relevance, the Yearbook of International Humanitarian Law bridges the gap between theory and practice and serves as a useful reference tool for scholars, practitioners, military personnel, civil servants, diplomats, human rights workers and students.
Specific to this Yearbook:
High-quality contributions
Double blind peer review system
Innovative articles
Current topics
The Yearbook of International Humanitarian Law is published in the Yearbook of International Humanitarian Law Series
N.B. Each year, Correspondents' Reports are written to accompany the Yearbook. For these as well as for the Call for Papers and Guidelines, please see www.asser.nl/asserpress/documentation/
Available for download

Front matter incl. editorial and toc