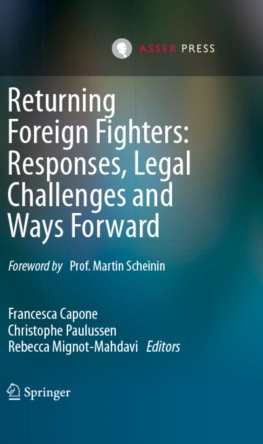 Returning Foreign Fighters: Responses, Legal Challenges and Ways Forward
March 2023
Order
Details
Published:

March 2023

Pages:

xix + 304 pp.

Publisher:

T.M.C. ASSER PRESS

Distributor:

Springer
This book, a follow-up publication to the 2016 volume Foreign Fighters under International Law and Beyond, zooms in on the responses that the international community and individual States are implementing in response to (prospective and actual) returning foreign fighters (FFs) and their families, focusing on returnees from Syria and Iraq to European countries.
As States and international organisations are still 'learning by doing', the role of the academic community is to help steer the process by bridging the divide between international standards and their implementation at the national level and between security concerns and human rights law. Furthermore, the academic community can and should assist in identifying ways forward that are both effective, sustainable and international law-compliant. Those are, ultimately, the goals that the present volume seeks to pursue.
The observations, recommendations and calls for caution included in this book will be useful in future debates on (returning) FFs, both in the academic world and in the world of policy makers and practitioners, as well as to the public at large.
Francesca Capone is Associate Professor of International Law at the Istituto DIRPOLIS of the Scuola Superiore Sant'Anna in Pisa, Italy.
Christophe Paulussen is Senior Researcher International Law at the T.M.C. Asser Instituut in The Hague, The Netherlands.
Rebecca Mignot-Mahdavi is Lecturer in International Law at the Manchester International Law Centre, University of Manchester, School of Law in Manchester, United Kingdom.
Specific to this book:
Covers/provides recommendations to highly topical, legally complex issues related to (returning) foreign fighters
Written by prominent experts in this field
Contributions are not only critical from a more academic point of view but they keep in mind the realities of practice
With a foreword by Martin Scheinin, British Academy Global Professor, University of Oxford; Former UN Special Rapporteur on human rights and counterterrorism
Available for download

Front matter incl. foreword and toc