[Inter-university programme] Kicking off the tenth season of the Lebanon Lecture Series
Published 2 February 2022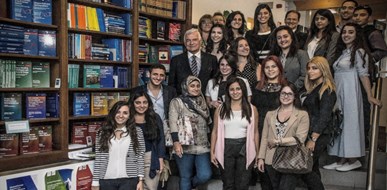 The 10th season of the Inter-University Programme (IUP) in Lebanon, also called the Lebanon Lecture Series, begins today. The programme offers Lebanese students the opportunity to learn about international criminal law and procedure.
About the Lebanon Lecture Series
The Lebanon Lecture Series is co-organised by the T.M.C. Asser Instituut, the International & Transitional Justice Resource Center (ITJRC), the International Center for Human Sciences CISH – UNESCO, La Sagesse University and IUSTICOM, and supported by the Konrad Adenauer Stiftung Rule of Law Programme Middle East & North Africa. The programme, set up in 2011 by the T.M.C. Asser Instituut and the Special Tribunal for Lebanon, is designed for Lebanese students to follow lectures on different aspects of international criminal law and procedure. The lectures are delivered by prominent academics and practitioners. Eleven Lebanese universities are participating in this programme, leading to new contacts and cooperation in the fragmented Lebanese community. 
Asser Instituut academic director Janne Nijman about the programme: "This programme is close to our hearts. As a research institute we do not only want to excel in conducting research, but also excel in serving societies with our knowledge and that of our experts. This programme that brings together law-students from eleven universities, we modestly hope, will help Lebanon in shaping its future through values such as collaboration, justice and fairness and Rule of Law principles." 
'Beyond my expectations'
Throughout its history, the programme has been met with great interest among students. Since the start of the programme, over 1000 students have enrolled. Reeda Halawi, a student who took the course in 2016-2017, said about the course: "It was beyond my expectations, as I gained a deep understanding of fundamental topics in criminal law, as well as procedure-related topics such as the functioning and operation of many international criminal tribunals".
When the first lecture of the programme took place in November 2011, there was no specialisation in international criminal law offered at any Lebanese university at that time. The programme was the first of its kind and unprecedented in the Middle East and North Africa region. The Lebanon Lecture series has been supported by the Special Tribunal for Lebanon for nearly ten years, and was continued by the Asser Instituut and the ITJRC in 2020.
In 2022, new consortium partners joined. Olga Kavran, creator of the Inter-University Programme, will be kicking off this 10th season. Kavran: "It is an honour for me to open the 10th session of the Inter-University programme whose continued implementation is testimony to the dedication of young people in Lebanon to acquiring knowledge and ending impunity in their beleaguered country. I am also proud that IUSTICOM has joined the Asser Institute and other partners in the great team that strives to promote justice, accountability and the rule of law in Lebanon."
A massive side effect
Asser Instituut project leader Dr Christophe Paulussen is proud of the programme as well. Paulussen: "Back in 2011, we were asked to develop a comprehensive programme on international criminal law and procedure. But the programme has also led to increased cooperation among the universities in Lebanon themselves. Indeed, one of the deans of the participating universities informed us that the programme has had a massive side effect; he qualified it as the 'best effort at reconciliation in Lebanon since the civil war'. It's this kind of feedback that makes the entire team at Asser working on this programme extremely proud."
Some of the themes that will be discussed this season are:
International criminal law and the Lebanese legal system
Substantive law: genocide, crimes against humanity, war crimes and terrorism
General principles: modes of liability, rights of the accused, role of victims
International criminal proceedings: pre-trial, trial, judgement, appeal and sentencing
Universal jurisdiction