[New SCL lecture] Visualising the Mladic trial
Published 1 June 2021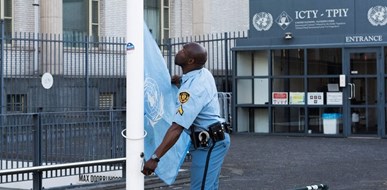 A newly scheduled lecture on the Mladic trial will offer a perspective on the work of the International Criminal Tribunal for the former Yugoslavia (ICTY) through two artistic interventions: the documentary The Trial of Ratko Mladic (Rob Miller and Henry Singer, 2018) and the exhibition Resolution 808 – Inside the Yugoslavia Tribunal (Jorie Horsthuis and Martino Lombezzi). The lecture will be held on 23 June, a few weeks after the expected final verdict in the Mladic case.
The Mladic trial has a long history and is the subject of many discussions amongst international lawyers as well as local, regional and global communities. The impact of the trial reaches far beyond what can be explained in the language of the law. To understand the different meanings the ICTY has for different people, we invite you to look at its work through an alternative lens.
Resolution 808 – Jorie Horsthuis and Martino Lombezzi
With the final verdict in the trial against Ratko Mladic, the era of the ICTY will come to an end. With exclusive interviews, images of closed areas and artifacts from the Tribunal archives, the exhibition Resolution 808 enters behind the scenes of this institution. The project stimulates a reflection about the first international tribunal after Nuremberg, and gives the viewers a glimpse into the place where war criminals like Milosevic, Karadzic and Mladic were prosecuted – and where history was made. Additionally, the project takes the audience to the Balkans, where the search for justice and reconciliation is still ongoing and convicted war criminals have already started returning to society. During this event, Jorie Horsthuis, Dutch journalist and political scientist, and Martino Lombezzi, Italian documentary photographer and historian  will build a live dialogue between images and text, presenting the most telling stories they collected.
The Trial of Ratko Mladic – Rob Miller|
Filmed over five years with unprecedented access to the Prosecution, the Defense, and the witnesses who came forward to give evidence and General Mladic's family members, this film tells an epic story of justice, accountability and a country trying to escape from its bloody past. The film premiered at IDFA in 2018, featured in the 'Special Presentations' category at Hotdocs, and won the Grierson award for the 'Best International Documentary'.  During the event, we will talk with Rob Miller about his motivation for making the film, the process and the impact, especially in light of the final judgment. When registering for the event, you will also get access to the film The Trial of Ratko Mladic for a 24-hour streaming period around the event.
The event will be moderated by Dr Sofia Stolk, a researcher at the Asser Institute and the coordinator of the Camera Justitia programme at the Movies that Matter Foundation. She has published about the intersection of art, architecture, culture and international law and frequently organises lectures and events on these themes in cooperation with law schools, cultural institutions and independent artists.