Online course: Advanced summer programme on terrorism, counter-terrorism and the rule of law
Published 3 June 2020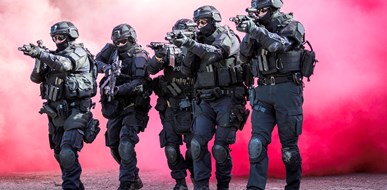 Terrorism can occur in any country, at any time and at any place. Although most of the world is focused on fighting the COVID-19 pandemic, April and May 2020 saw daily terrorist attacks across the globe. Knife attacks, bombings, attacks by drones and missiles killed hundreds of civilians, children, soldiers - at funerals, on markets and in mosques in countries like France, Afghanistan, Nigeria and Yemen.
Are you interested in terrorism and national security issues? Do you find it important that states combat terrorism effectively, but with respect for human rights and the rule of law? Do you want to learn from renowned academics and practitioners dedicated to understanding and unpacking the phenomenon of terrorism?
Then sign up for the 10th edition of our online Advanced summer programme on terrorism, counter-terrorism and the rule of law (August 24-28), co-organised with ICCT The Hague. See the full programme here.
About the course
During this intensive online course, you will explore international and domestic legal aspects of counter-terrorism.
You will get the chance to have a unique and in-depth look at the challenges that come with adopting and implementing counter-terrorism measures, while ensuring respect for human rights and the rule of law.
Our renowned programme brings you lectures by top speakers in the field, interactive sessions, virtual study visits and online group discussions (Chatham House Rules).
For whom?
Experts, academics and practitioners with a keen interest in (inter)national security, the rule of law and effective counterterrorism strategies. In the past we have welcomed PhD students, early career researchers, policymakers, diplomats, members of police, security and intelligence services personnel and NGO representatives from across the globe.  
Topics
Drones and the Individualisation of War
The EU and post Brexit (In)Security: The Future of EU Arrest Warrants, Regional Counter-Terrorism Cooperation and Europol
Public and Media Attitudes on De-Radicalisation and Re-Integration
National Security, Immigration and Citizenship
Prosecuting Terrorism Cases in Practice
Jihadi Terrorist Organisations: Modus Operandi and Perpetrator Characteristics
Terrorism, Sexual Violence and Human Trafficking: Boko Haram and Al-Shabaab
Does Terrorism Work? Lessons from the Past, Dilemmas for the Present
 Last year's reviews:
A very informative and useful week
"An excellent and very useful course with eminent scholars (and a judge) presenting, which exceeded all my expectations. I would recommend it to any academic or practitioner, and made some great networking contacts in various fields relevant to my work. Thank you for the seamless running and your friendly attitude; always willing to help."
Great learning experience
"Really excellent course with excellent presenters and a really nice mix of participants. The organisation was fantastic and I will go away with a much better understanding of counter terrorism."
About T.M.C. Asser Instituut
T.M.C. Asser Instituut has more than 55 years' experience in research and education in international and European law.
Annually, we offer hundreds of participants, from all over the globe, high quality courses in international and European law.  
This year we celebrate the 10th anniversary of the renowned Advanced summer programme on terrorism, counterterrorism and the rule of law. 
 Why sign up?
Stay up to date of current trends and latest research insights in terrorism, counterterrorism and the rule of law
Learn from top experts in the field
Experience the effects of a variety of international counterterrorism strategies and laws
Learn from international and Hague-based top experts with knowledge and networks in the City of Peace and Justice
Renowned course with a high quality and well organised programme
Virtual tours of Eurojust and Europol
Build up a great international network
Taking a law summer course is great for your CV
Receive a certificate
You will get access to Asser Academy, our online learning environment with course materials, presentations and recordings
Reduced (and early bird) fees in 2020
When? From 24 – 28 August 2020
Language: English
Duration: 5 days
Fees: Early bird fee: €930, PhD reduced fee: €695, Standard online fee: €1130. 
Sign up here
Do you need more info? Please get in touch with educationtraining@asser.nl