[Annual Lecture] Watch a recording of the 6th Annual T.M.C. Asser Lecture on AI and regulation
Published 30 November 2020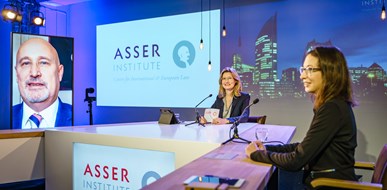 On Thursday 26 November Professor Andrew Murray joined us online to deliver his lecture 'Almost human: law and human agency in the time of artificial intelligence.' More than five hundred people from all over the world watched the sixth Annual T.M.C. Asser Lecture. A recording of the lecture is now available on our Youtube page.
Artificial intelligence (AI) is all around us: from the smartphones in our hands to drone strikes thousands of miles away. While this technology has many benefits such as simplifying complex data and making daily tasks easier, it also has dangerous implications. How and why does the rise of AI threaten the rule of law and what kind of regulatory frameworks are needed to manage this omnipresent technology? Professor Andrew Murray addressed these questions and more at the online T.M.C. Asser Sixth Annual Lecture on 26 November. 
Ahead of the lecture, Prof. Murray was interviewed by Caroline de Gruyter of Dutch newspaper NRC Handelsblad, and by Asser researcher Dimitri van den Meerssche for international law blog Opinio Juris.
About Professor Murray
Prof. Murray is a leading thinker on information technology law and regulation, who focuses on regulatory design within Cyberspace and on the protection and the promotion of Human Rights within the digital environment. He is a Professor of Law and Deputy Head of the Department of Law at the London School of Economics where he researches and teaches in the fields of Internet and new media law, including the laws of digital surveillance and digital privacy.
[Online winter academy] Artificial intelligence and international law
In February 2021, the Asser Institute will host its third annual winter academy on 'Artificial intelligence and international law.' This state-of-the-art winter academy will be hosted in an online format and will take place over six days, split across two weeks: 10-12 February and 17-19 February. The interdisciplinary programme offers you an in-depth and comprehensive overview of AI and international law: from ground notions to complex debates on AI and the rule of law. More information