[New research paper] 'Magnitsky sanctions fail to serve human rights or security'
Published 6 October 2022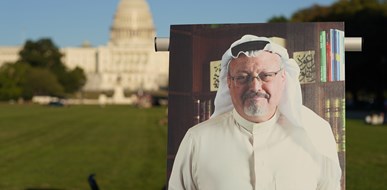 [New research paper] 'Magnitsky sanctions fail to serve human rights or security'  
In a new paper, Asser Institute researchers Victoria Kerr and James Patrick Sexton conclude that so-called 'Magnitsky sanctions regimes' - in which governments target people suspected of human rights violations and abuses - are failing to achieve their aims. The authors call the Magnitsky sanctions regimes 'illusory' and conclude that they do not 'adequately or transparently serve human rights and security'. According to the authors, human rights law is also seriously infringed in the process.
Magnitsky sanctions regimes, originally created by the United States and later the European Union, United Kingdom and other independent states, target individuals presumed responsible for human rights violations and abuses with asset freezes and travel bans. A prime example is the United States' sanctioning of several individuals allegedly responsible for the killing of the Saudi Arabian journalist Jamal Khashoggi in 2018.  
Potentially self-defeating
In their paper, Kerr and Sexton map and analyse the Magnitsky sanctions that the United States, United Kingdom and the European Union have created thus far, identifying several trends in the process. Using this analysis as a basis, Kerr and Sexton contend that neither human rights nor security interests are transparently or effectively served by targeting individuals with Magnitsky sanctions. Instead, they argue that human rights law is seriously infringed in the process and (inter)national security is potentially undermined. For example, many Magnitsky sanctions have led other countries to respond with sanctions of their own, threatening international security.
Kerr and Sexton furthermore suggest that the increasing use of Magnitsky-style sanctions regimes reflects a wider trend towards unilateral - as opposed to United Nations-wide security measures within international affairs, and a growing dissatisfaction among some states with the possibilities offered by international criminal justice.
Magnitsky sanctions regimes are named after Sergei Magnitsky, a tax accountant who accused Russian tax officials and law enforcement of stealing millions in tax rebates. Magnitsky was jailed on charges of tax evasion, allegedly beaten by police, and eventually died in prison. In 2012, the United States Congress passed the Magnitsky Act, which enabled the US to impose sanctions on individuals identified as being involved in the detention, abuse or death of Sergei Magnitsky and the ensuing cover-up, or involved in gross human rights violations in Russia more generally. Since then a number of countries, including the United Kingdom, and Canada, and the European Union, have created similar sanctions regimes.
Read the full paper 
Victoria Kerr and James Patrick Sexton's paper 'Human Rights and Security: Unpacking the Elusive Nature of Magnitsky Sanctions' was originally presented at the European Society of International Law's 2022 Research Forum on 'International Law and Global Security: Regulating an Illusion?' hosted by the University of Glasgow. The paper is forthcoming in the European Society of International Law's Paper Series. 
Read more
The European Union's Sanctioning of Russian Military Officers: An Urge for Caution
As of 21 July 2022, the European Union has adopted seven rounds of restrictive measures (commonly referred to as 'sanctions') against the Russian Federation following its full-scale invasion of Ukraine in February 2022. The latest two rounds (adopted on 3 June and 21 July 2022, respectively) – in addition to containing measures aimed at harming Russia's economy – target certain Russian military officers with asset freezes and EU entry bans. Read more.
'The European Union's Sanctioning of Russian Military Officers: An Urge for Caution', by James Patrick Sexton, EJIL:Talk! (2022).
About the authors
James Patrick Sexton is a junior researcher in public international law at the T.M.C. Asser Instituut within the research strand: 'In the Public Interest: Accountability of the State and the Prosecution of Crimes'. In this role, James contributes to several projects in the context of the Global Counterterrorism Forum (GCTF), namely the Maritime Security and Terrorist Travel Initiative.
Associate fellow Victoria Kerr is a consultant in research strand 'In the public interest: accountability of the state and prosecution of crimes, working primarily on the MATRA project 'Strengthening Ukraine's Capacity to Investigate and Prosecute International Crimes, a joint initiative of the Asser Instituut and Global Rights Compliance (GRC). Her work focuses on supporting the Office of the Prosecutor General in Ukraine and several criminal justice actors in investigating, prosecuting and seeking remedies for international crimes. She also contributes to projects in the context of the Global Counterterrorism Forum (GCTF).