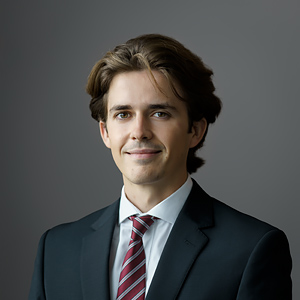 James Patrick Sexton LL.M.
Junior Researcher

Department:

Researchers

Research strand:

In the public interest: accountability of the state and the prosecution of crimes

Main fields of interest:

Counter-Terrorism

International Criminal Law

International Human Rights Law

International Humanitarian Law
Profile
James Patrick Sexton is a junior researcher in public international law at the T.M.C. Asser Instituut within the research strand: 'In the Public Interest: Accountability of the State and the Prosecution of Crimes'. In this role, James contributes to several projects in the context of the Global Counterterrorism Forum (GCTF), namely the Maritime Security and Terrorist Travel, Watchlisting, and Racially or Ethnically Motivated Violent Extremism Initiatives.
James holds an LL.M. in Public International Law (cum laude) from Leiden University (2021) and an LL.B. in Scots Law (first-class honours) from the University of Glasgow (2020), the latter of which included a year of study at the University of Copenhagen (2018-2019). Prior to his current role at the T.M.C. Asser Instituut, James was a legal intern on the MATRA Project 'Strengthening Ukraine's Capacity to Investigate and Prosecute International Crimes' and was the editorial assistant for the Yearbook of International Humanitarian Law.
James also previously worked at the Kalshoven-Gieskes Forum's International Humanitarian Law Clinic, first as a student researcher and then as a junior supervisor. In these capacities, James contributed to the research project 'IHL in Action: Respect for the Law on the Battlefield' carried out in collaboration with the International Committee of the Red Cross.
James' primary research interests lie within the law of armed conflict, international criminal law, unilateral sanctions, and the (international) legal aspects of countering terrorism, particularly racially or ethnically motivated violent extremism.
Publications:
J.P. Sexton, 'The Anti-ISIL Coalition, Civilian Harm, and the Obligation to Investigate', Articles of War (2023).
J.P. Sexton and D. Kinnecome, 'Enforcing Sanctions Violations to Fund the Reconstruction of Ukraine', EJIL:Talk! (2023).
J.P. Sexton, F. Beurret, and N. O'Regan, 'Year in Review 2021' in H. Krieger, P. Kalmanovitz, E. Lieblich, and R. Mignot-Mahdavi (eds.), Yearbook of International Humanitarian Law, Volume 24 (2021) (T.M.C. Asser Press, 2023), pp. 193-277.
J.P. Sexton, 'How does the obligation to investigate alleged serious violations of international humanitarian law apply in ad hoc military coalitions?', 60(2) The Military Law and the Law of War Review (La Revue de Droit Militaire et de Droit de la Guerre) (2022), pp. 188-217.
V. Kerr and J.P. Sexton, 'Unpacking the elusive nature of Magnitsky sanctions: human rights and security considerations', European Society of International Law Paper Series (2022).
J.P. Sexton, 'The European Union's Sanctioning of Russian Military Officers: An Urge for Caution', EJIL:Talk! (2022).
J.P. Sexton, 'Book Review: Heike Krieger (ed), Jonas Püschmann (assist ed), Law-Making and Legitimacy in International Humanitarian Law', 13(1) Journal of International Humanitarian Legal Studies (2022), pp. 181-185.
J.P. Sexton et al, 'In for a penny, in for a pound? The lack of ICC funding for situations referred by the Security Council', Leiden Law Blog (2021).
J.P. Sexton, 'An Opportunity for Pre-Emption: Exploring the Legal Vacuum Occupied by those Internally Displaced by Slow-Onset Climate Change', 23 Trinity College Law Review (2020), pp. 87-107.
Related news