Preliminary programme out now! Artificial Intelligence & International Law Winter Academy
Published 5 December 2018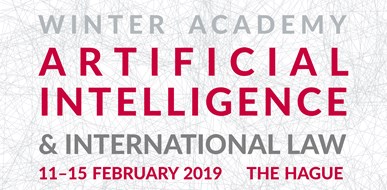 The preliminary programme for our Winter Academy on Artificial Intelligence and International Law is out. This interactive training from 11-15 February 2019 features over twenty sessions by high-level speakers and includes panels, workshops, and a mini-hackathon.
Winter Academy on Artificial Intelligence & International Law
The Winter Academy on Artificial Intelligence & International Law will offer foundational knowledge on key issues at the interface of international law and artificial intelligence. It provides a platform for critical debate and engagement on emerging questions. It includes modules addressing both technical and legal aspects, and will alternate theoretical and more practical perspectives.
The Winter Academy is structured along themes. Day one focuses on 'Understanding AI' through its definition and development. The ethics of AI and its relation to human rights are addressed on day two in 'AI for good'. Day three revolves around 'AI and armed conflict', by discussing its implications for international humanitarian law. 'AI and responsibility' on day four tackles questions of individual and state responsibility towards AI. The programme ends on day five with topics of 'AI governance'.
For more information and registration click here.