In the spotlight: International Humanitarian and Criminal Law Platform
Published 3 May 2019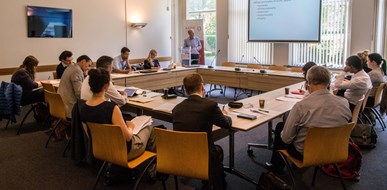 The International Humanitarian and Criminal Law (IHCL) Platform is one of the many inter-university networks coordinated by the T.M.C. Asser Instituut.

The objective of the IHCL Platform is to establish an academic network fostering research in the area of international criminal law and humanitarian law, providing an academic platform for discussion of relevant contemporary issues and legal questions for which there is, as yet, no fixed jurisprudential position.
This objective is realised through the IHCL Platform's activities, such as conferences, workshops, its annual PhD Days and lectures. Have a look at two of our upcoming activities:
The 8th annual PhD day (23 May):
PhD candidates on international humanitarian law and/or international criminal law topics can give presentations of 10 minutes of their work (in progress) in a very informal setting, followed by 15 minutes feedback from a broader group of people including other PhD candidates and (senior) researchers from and outside of the IHCL Platform. The PhD Day is open to any PhD candidate working in this field; it is not necessary to be affiliated with one of the organisations formally involved in the IHCL Platform. 
'The Conduct of Hostilities and International Humanitarian Law: Challenges of 21st Century Warfare' (6 June):
Although international humanitarian law has adapted to new circumstances, this field of law was originally designed to deal with inter-state wars. Moreover, in modern armed conflicts the conduct of hostilities increasingly seems to take place in parallel with law enforcement operations. To what extent need the rules governing the conduct of hostilities be clarified, both in terms of their scope of application and their substantive aspects?
During this lecture, organised by the Hague Initiative for Law and Armed Conflict (HILAC), the Kalshoven-Gieskes Forum on International Humanitarian Law and the IHCL Platform, the final report of the International Law Association (ILA)'s Study Group on the conduct of hostilities and international humanitarian law will be presented by the Study Group's Chair and one of the two Rapporteurs. After that, two practitioners, from the Netherlands Ministry of Foreign Affairs and the Netherlands Ministry of Defence, will share their views on the report's findings and their possible use in practice. The presentations will be followed by an interactive Q&A session. For more information and registration, see here.
The IHCL Platform was established in 2010 and currently consists of representatives from the University of Amsterdam (in particular the Amsterdam Center for International Law), the VU University Amsterdam, Leiden University (in particular the Grotius Centre for International Legal Studies), the University of Groningen, the Netherlands Defence Academy, Tilburg University, Maastricht University and the Institute for International Law of the KU Leuven.
The IHCL Platform is part of Asser research strand Human Dignity and Human Security in International and European Law. This research strand Human Dignity and Human Security in International and European Law adopts as its normative framework a human rights approach to contemporary global challenges, inter alia in the fields of counter-terrorism, international and transnational crimes, challenges at sea, new technologies & and artificial intelligence, non-discrimination and historical memory. It examines what it means to safeguard human dignity – also in relation to human security – in these areas.
For more information about the IHCL Platform and its activities, please feel free to contact its coordinator Dr Christophe Paulussen at c.paulussen@asser.nl.