International humanitarian law: an often forgotten field of law in the fight against terrorism
Published 24 October 2019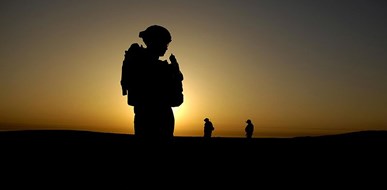 The role of international humanitarian law in the context of prosecuting foreign fighters is complex and underutilised, argue Asser senior researcher and research fellow at the International Centre for Counter-Terrorism – The Hague (ICCT) Dr Christophe Paulussen, and Dr Hanne Cuyckens, assistant professor at Leiden University College, in their latest paper.
Returning foreign fighters are often prosecuted for being members of a terrorist organisation only. This approach is understandable from a practical point of view, as it is much easier to prove this general offence than actual crimes that have been committed on the battlefield. However, for the victims of such crimes, mere membership convictions are not very satisfactory, as the actual crimes committed against their loved ones are not being investigated. International humanitarian law (IHL), an often forgotten field of law in the fight against terrorism, even though it clearly applies to the armed conflicts in Syria and Iraq, can provide solutions here. For example, whereas in the past, a picture of someone posing with a deceased soldier was used to prove that that person was member of a terrorist organisation, knowledge of IHL could lead to the realisation that such a picture could also be used to prove that someone violated the dignity of a war victim, thus committing a war crime. This, in turn, can also lead to higher sentences. According to the researchers, a better understanding of IHL can assist in doing justice to the victims, by focusing more on the actual crimes committed, and at the same can lead to higher sentences, as recently occurred in the Dutch case of Oussama A. as well.
If a correct application of the law can assist in meting out higher sentences for foreign fighters upon their return, then politicians may be more willing than is currently the case to repatriate them, as advised by many international law and security experts. The Oussama A. case, and several others, including those accessible via the Asser Institute's International Crimes Database, are analysed in this paper, dissecting the difficult relationship between counter-terrorism and IHL in the prosecution of foreign fighters more generally.
The paper will be published in a forthcoming edition of the Journal of Conflict & Security Law but the accepted version can already be accessed here on the T.M.C. Asser Instituut's SSRN page.