Asser researcher receives Royal Netherlands Academy of Arts and Sciences Early Career Partnership Award
Published 8 June 2020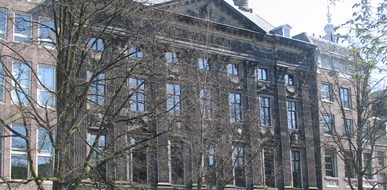 Asser senior researcher Dr Berenice Boutin has received an Early Career Partnership Award from the Royal Netherlands Academy of Arts and Sciences (KNAW). She will receive € 10,000 to organise a meeting to expand interdisciplinary cooperation in order to gain new insight into fundamental research. Boutin receives the award for the organisation of a conference on the Law and Ethics of Artificial Intelligence in the Public Sector: from Principles to Practice and Policy.
Innovative and original research ideas
The award is intended to support and encourage talented early career researchers who demonstrate the ability to develop innovative and original research ideas. The KNAW selected ten researchers in total for this award. The KNAW selection committee described the proposals it received as 'often very topical and with a specific outcome', and 'a great diversity of topics and interdisciplinary approach.' This year, the meetings organisers will have two years to convene their interdisciplinary meeting, a year longer than planned due to the coronavirus situation.
Dr Berenice Boutin is Senior Researcher in International Law with the Asser's research strand on Human Dignity and Human Security in International and European Law. Her work focuses on international responsibility, security, and new technologies. She is project leader of the research project 'Designing International Law and Ethics into Military Artificial Intelligence (DILEMA)', funded by NWO-MVI (2020-2024). This interdisciplinary project explores the conditions and modalities that would allow to leverage the potential benefits of AI technologies in the military while abiding by the rule of law and ethical values. It investigates why is it essential to safeguard human agency over certain functions and activities, where it is most critical to maintain the role of human agents in order to ensure legal compliance and accountability, and how to technically ensure that military technologies are designed and deployed in line with ethical and legal frameworks.
The Asser research strand Human Dignity and Human Security in International and European Law adopts as its normative framework a human rights approach to contemporary global challenges, inter alia in the fields of counter-terrorism, especially with regard to the topic of foreign (terrorist) fighters, international and transnational crimes, new technologies and artificial intelligence, and historical memory.