[In the media] Op-ed Victoria Kerr: 'International law might appear powerless in the Russian war in Ukraine, but it is not'
Published 29 March 2022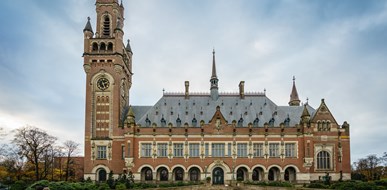 In an op-ed for Dutch newspaper Trouw on the Russian-Ukrainian conflict, Asser Institute researcher Victoria Kerr calls for a shift in narrative from writing obituaries of international law, towards harnessing international law to respond to the conflict.
The international community's fragmented response on the illegality of the Russian invasion in Ukraine, and its lack of impact in preventing further escalation of the conflict, have led some international lawyers to proclaim the death of the international legal order and international law itself.
Recently, Maksym Vishchyk, a young Ukrainian international lawyer, described how some Ukrainian students make bitter jokes on social media and publicly turn away from the international legal profession, despairing of the impotence of international law. One of them mentioned that all rules and treaties "are not worth the paper they are printed on".
However, writes Kerr, declaring international law dead will not end the Russian invasion of Ukraine, nor will it provide support to the victims of this devastating war. Instead, we would do better to focus on the question of how international law can in fact be deployed in situations such as that in Ukraine, because that is already happening in abundance, and with unprecedented speed. Kerr: "If we hold those who wage war legally accountable and bring them to justice, then international law will, in the future, surely act as a deterrent."
Read the full op-ed (in Dutch).   

Victoria Kerr is a junior researcher in the Asser research strand 'In the public interest: accountability of the state and prosecution of crimes. 
She works on the MATRA project ''Strengthening Ukraine's Capacity to Investigate and Prosecute International Crimes", a joint initiative of the Asser Instituut and Global Rights Compliance (GRC). Her work focuses on supporting the Office of the Prosecutor General in Ukraine and several criminal justice actors in investigating, prosecuting and seeking remedies for international crimes.  Sign up for the project's newsletter.